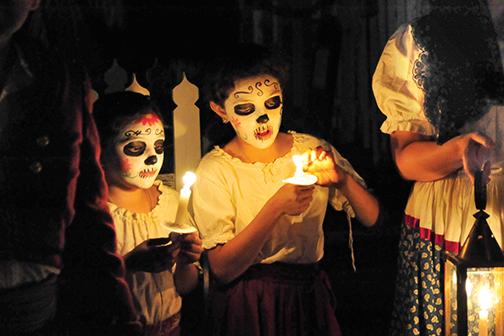 SANDE LOLLIS
During the last days of October, people in Mexico begin to prepare for an important visit. For generations, food, pictures, flowers, crucifixes, colorful skulls and mementos have been used to decorate altars that commemorate loved ones who have passed on. Legend and tradition tell that during the first two days of November, the dead return to the mortal world to visit those they have left behind and join in on a celebration of life and death.
"It's not a negative thing; it's not a sad thing. You're remembering people you love and you're not grieving, you're remembering," Save Our Heritage Organization Education and Communications Director Alana Coons said.
The fourth annual Old Town San Diego's Dia de los Muertos will take place Nov. 1-2 from 1-9 p.m. SOHO and Cafe Coyote are producing the event that aims to educate and bring awareness to an important cultural event for San Diego's Hispanic and Latino community.
Old Town is a melting pot of cultures whose diversity stems from settlements by Native Americans, Spaniards, Mexicans and Americans. Coons wholeheartedly believes that the Dia de los Muertos celebration is a great way to highlight an important cultural event for the San Diego's Hispanic and Latino community.
During the event's first year, Coons received feedback from visitors who thanked her for putting on an event that celebrated their heritage.
"A woman was telling me how important this event was to her and her family," Coons said. "A lot of this culture had been lost since living in America, and she started crying and said, 'This is just magical for us, this means so much to us. Thank you for doing this.'"
Following the success of the first year, the event has grown astronomically and now expects 50,000 attendees for both days this year.
The event features 49 altars created by businesses and organizations in Old Town. Docents will be present at each altar to explain its significance and meaning. Altars may be traditional or modern, and may reflect the personality of those who built it. Traditionally, altars are decorated with cempasuchil flowers, or orange marigolds that are said to guide the dead back home.
The holiday is chock-full of traditions that anyone can participate in. Dia de los Muertos is a cause for celebration, and tradition calls for an abundance of food—from sweet bread of the dead to hot chocolate and hearty tamales. The food is essentially prepared as an offering to the dead, but the living get to enjoy the tasty treats, as well.
Mexico's Dia de los Muertos is usually related to images of colorful skeletons, made popular by the political cartoonist Jose Guadalupe Posada. He created "La Calavera de la Catrina," one of the most popular skeleton cartoons related to this holiday, as a satire of high society during the time of the Mexican Revolution in the early 1900s. One of the largest altars on display at the celebration will commemorate the 100th anniversary of Posada's death.
Although the holiday is often incorrectly associated with Halloween, it's a completely separate event. Dia de los Muertos is strictly a celebration where the living pray for and remember the dead and welcome them back for a night. The celebration in Old Town features music, dancing, face painting, singing, art and other activities to enhance the sentiment.
On the night of Nov. 2, visitors will be given a cempasuchil flower and candlestick for the candlelight procession to El Campo Santo Cemetery at the end of San Diego Avenue. The thousands of visitors will light the way to the cemetery, starting from the Old Town San Diego State Park and walking several blocks while singing "Las Calaveras." A large public altar will be set up at the cemetery where anyone can leave pictures, messages and mementos for their departed loved ones.
The Tour of Altars and most workshops at the event are free, and some businesses will be handing out complimentary hot chocolate and mini churros. Although street parking is free at Old Town, Coons recommends SDSU students take public transit to the Dia de los Muertos celebration to avoid traffic and enjoy the festivities.
Photos by Sandi Lollis.