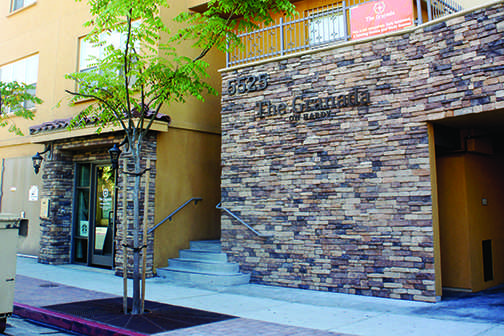 File Photo.
San Diego State has recently taken ownership of The Granada on Hardy apartment complex as part of its strategic planning to expand housing opportunities and create a community-oriented campus.
Office of Housing Administration Director Eric Hansen said the acquisition is part of an initiative to increase the housing inventory to benefit SDSU students. The incentives include short-term needs for housing because of increase in student population and a long-term provision of a range of housing choices.
"We feel the purchase will benefit both SDSU students and the campus by providing one more property near to the core of campus that will support our short-term housing capacity needs and the longer term need for a variety of housing types to serve student preferences," Hansen said.
The Granada will be an addition to the variety of housing options available to students, aside from the current residence halls and apartments.
"The purchase of The Granada Apartments will provide badly needed student housing capacity for incoming freshmen and other students beginning next fall by adding additional capacity beyond our existing residence halls,"  University Architect Robert Schulz said. "In the longer term, its apartment configuration will add additional choices to our inventory of primarily dormitory-style housing."
Accounting sophomore Terri Wright said having a variety of options can benefit students who prefer to live on campus.
"Living so close to campus is extremely convenient," Wright said. "I get to sleep longer in the mornings and don't have to worry about commuting. The programs here help me meet new people who are in similar situations as I am and we have built a solid community. Adding more housing choices can only be a good thing."
Currently, SDSU offers two apartments complexes as housing options for students: Piedra del Sol and Villa Alvarado. The apartments are part of the Aztec Journey community and have a different programming model than the residence halls that is specifically catered to sophomore and transfer students.
"It's about trying to make sure their experiences are geared toward upper division through career and academic oriented programs such as study abroad, internships and other leadership programs," Piedra del Sol and Villa Alvarado Residence Hall Coordinator and Judicial Officer Jamaul Simmons said. "It's still about building community, no matter if we're dealing with the dorms or apartments because your community and friendships that you build here will last you a lifetime."
The building is currently named The Granada on Hardy but will be renamed Granada Apartments when it's operated by university student housing beginning Fall 2014. SDSU NewsCenter announced the $25.75 million extension plan last week and the deal was made last month.
The four-story complex is located at 5255 Hardy Ave. and has 49 apartments units with one to four bedrooms per unit. It also includes a lounge with a pool table, a computer lab with two private study rooms, an outdoor picnic and grilling area and a convenience store.
Photo by Kelly Smiley, staff photographer