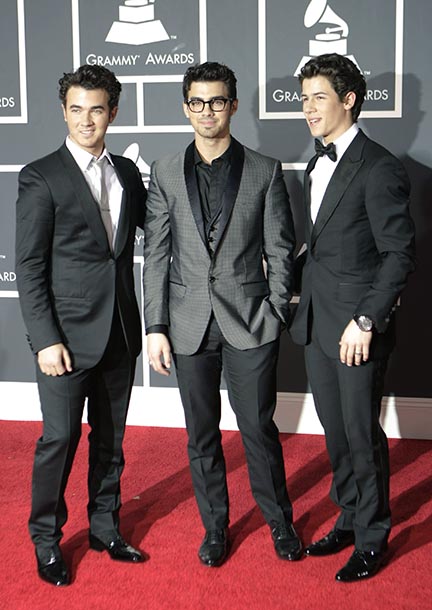 Jay L. Clendenin
Celebrity of the Week:
Hollywood heartthrob and former Disney star Nick Jonas performed his first solo show since the tragic breakup of the Jonas Brothers. The trio formally announced the group's breakup on Oct. 30 on ABC's "Good Morning America." Not even one week later, Nick put on his own show at Live in the Vineyard in Napa Valley. Even though most JoBro fans were heartbroken because of the recent split of the famous boy band, an overwhelming number of fans still came out to the venue to support Nick at his show. While working on his solo music career, Nick is also managing to improve on his acting career. He's starring in a movie called "Careful What You Wish For" that is expected to release sometime in 2014.
Sightings:
 Former 'N Sync band members reunited in Orlando, Fla., this past weekend to support former member Chris Kirkpatrick at his wedding. Jessica Biel accompanied her husband Justin Timberlake to the big occasion. This was not 'N Sync's first reunion this year. According to E! Online, the boy band performed at the MTV Video Music Awards in August for the first time in more than a decade. Although the band members seem to be guiding their lives in different directions, no one knows what the future holds for this long-loved group.
Romance:
Kanye West finally popped the big question to reality star Kim Kardashian during her birthday week on Oct. 22. West proposed at AT&T Park in San Francisco by having a 50-piece orchestra play Lana Del Rey's "Young and Beautiful" while the jumbo screen read, "PLEEEASE MARRY MEEE!!!" according to HollywoodLife.com.
While Kim Kardashian and Kanye West were celebrating their relationship, another celebrity couple has decided to call it quits. Model Miranda Kerr and actor Orlando Bloom are splitting up after three years. The couple made their announcement on Oct. 25, but the two still seem amicable as they spent the very next day together with their son, Flynn. The family took a walk around New York City for the day, according to Popsugar.
Trivia: 
1. This actor got his first on-screen role in 1983 at the age of 9 in a British commercial for a Pac-Man cereal. His father was a commercial pilot, so he spent a lot of time moving and grew up in England, Portugal and California, which is probably why you can't hear his mixed Welsh/English accent when he's on screen. In fact, he was the first non-American actor to play Batman.
A. George Clooney
B. Michael Keaton
C. Christian Bale
D. Val Kilmer
2. This actress had a very unique upbringing. She grew up on a commune in Northern California without any electricity, and her parents made Timothy Leary her godfather. She went on to be an in-demand actress during the late 80s and early 90s starring in roles such as "Edward Scissorhands," "Mermaids" and "Heathers." She had to turn down roles in movies such as "Conspiracy Theory," which went to Julia Roberts, and "The Object of My Affection" due to scheduling conflicts.
A. Molly Ringwald
B. Meg Ryan
C. Heather Locklear
D. Winona Ryder
3. This rapper who continually changes his name was born Calvin Cordozar Broadus Jr. He created his rap name after his mom thought he looked like the "Peanuts" character Snoopy. His style of rap, ending rhymes in "izzle" has lead to many collaborations with other artists such as Eminem, Dr. Dre and Nate Dogg.
A. Snoop Lion
B. Tupac Shakur
C. Ice Cube
D. Nas
4. This actress became well-kneown after starring in the film "The Horse Whisperer" as a teenager but became an "it girl" after co-starring in the film "Lost in Translation" alongside Bill Murray. Recently, she has been saving the world from bad guys in films such as "Iron Man 2" and "The Avengers."
A. Melanie Sloan
B. Scarlett Johansson
C. Cameron Diaz
D. Natalie Portman
5. After "Sons of Anarchy" actor Charlie Hunnam decided to drop the risqué role of Christian Grey in the upcoming film "Fifty Shades of Grey," this other hunky actor who has played small roles in films such as "Marie Antoinette" and "Shadows in the Sun" has taken the role. However, he might be more familiar as the face of Dior's "Homme" campaign.
A. Channing Tatum
B. Jamie Dornan
C. Simon Nessman
D. David Gandy
Answers: 1.C 2.D 3. A 4. B. 5.B
Also read: Hollywood Happenings: Starring Lauren Conrad 
Photo courtesy of Jay L. Clendenin/Los Angeles Times/MCT