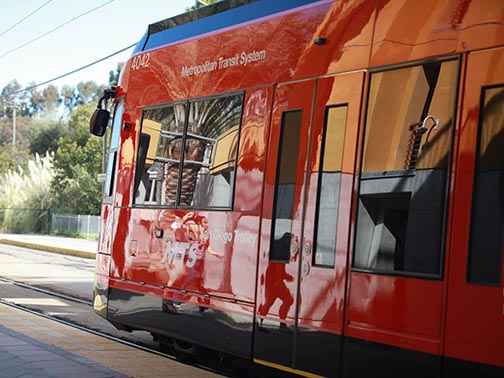 Co-written by Adam Burkhart.
A disaster drill will be conducted at the San Diego State trolley station on Nov. 6-7. The simulation will take place from 5 p.m. on Wednesday until 4 a.m. on Thursday.
SDSU's involvement will be part of a five day drill by the San Diego Fire-Rescue Department staged to simulate the event of a 6.6 magnitude earthquake.  A number of students, faculty and staff from SDSU's School of Theater, Television and Film will be acting, filming and doing makeup to enhance realism. After the drill, the footage will be given to first responders to be used as training material.
"We are excited that we are involved in something that will provide a service to the community," associate professor and interim director of the School of Theater, Television and Film D.J. Hopkins said.
There will be six separate practice locations, but according to a San Diego Metropolitan Transit System press release, the main focus will be SDSU's trolley station where a derailment will be simulated. The practice will take place in the middle of the night when the trolleys are not operating.
There will also be six two-person film crews around campus during the event.
"Activities related to the drill will start on campus around 5 p.m., but there may be quite a few emergency vehicles on campus as early as noon," SDSU Media Relations Manager Beth Chee said.
Although the SDSU Police Department has little involvement, there will be a few managerial and supervising personnel observing.
"Our officers will respond and then pretend they are going to hand it over to the fire department," Interim Chief of Police Lamine Secka said.
MTS Public Relations Specialist Regena Kowitz said federal funds from the Department Homeland Security were used to sponsor the simulation. The main goal of putting on this simulation is to prepare the community in case something like this were to actually occur, Kowitz said.
"Preparedness is key," Kowitz said.  "If you don't train for it, you don't know how you're going to react."
Members from the Federal Emergency Management Agency, San Diego Fire-Rescue Department, Urban Search and Rescue, MTS and SDSU police department have played key roles in preparing for the simulation.
Updates will be posted on the university's homepage, Facebook and Twitter during the event.
Staff photo