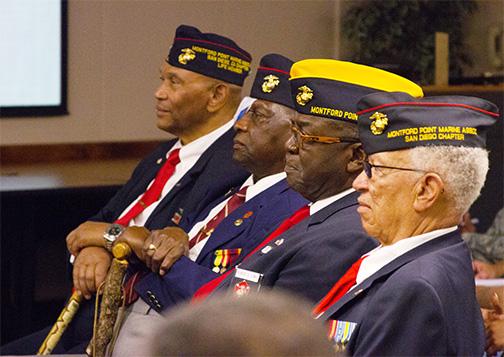 The Montford Point Marines Association visited San Diego State on Wednesday evening to deliver a presentation and answer questions.
The Montford Point Marines were the first African-Americans to join the U.S. Marine Corps.
They were established following an Executive Order signed by President Roosevelt in 1942 that allowed African-Americans to be recruited into the Marine Corps. One of the original Montford Point Marines in attendance, 89-year-old Carrel Reavis, said Eleanor Roosevelt also deserved credit for encouraging her husband to issue the executive order.
Before President Truman desegregated the armed forces in 1948, African-American recruits didn't go to San Diego or Parris Island, where the Marine Corps trained its recruits in World War II, as it does today.  Instead they were sent to Montford Point in North Carolina where approximately 20,000 African-American recruits were given basic training from 1942-49.
MPMA estimates only 500 original Montford Point Marines are still alive today.
The speaker for the event was retired Sergeant major Melvin O. Chestnut.  Sergeant major is the highest rank an enlisted Marine can attain.  The hour-long presentation delivered by Chestnut and other Montford Point Marines told the unique story of their journey.
The original Montford Point Marines also answered questions during the presentation. The men, who are all almost 90 years old, spoke about the hardships they faced as recruits during boot camp.  From trapping snakes in the woods to being treated as second-class citizens because the color of their skin, the veterans said being an African-American Marine was challenging.
"The worst of all though was how people treated you in your uniform," Reavis said.  "Nobody knew they had black Marines then, so you could get arrested."
Reavis then told of a fellow African-American Marine that missed his mother's funeral because he was arrested in Georgia on the way to the service.
J.T. Inge, another of the original Montford Point Marines, talked about the challenges African-American Marines faced even in their off-time.
Inge said if they wanted to go out for a meal, there was only one restaurant in town that would serve them.  Catching a bus ride home was also tough.
"There was not a waiting room for blacks at the bus station and we had to wait outside no matter the weather," Inge said.  "And if a bus came and there were no seats on there for blacks you had to stand up."
There were almost 75 people in attendance for the event.  Political science junior and current Marine Devin Davis attended the presentation to show respect.
"I respect these guys," Davis said.  "They have a legacy and I wanted to hear what they had to say."
Anthropology senior Katie Sharp attended the event because of personal ties.
"I have family in the Marines, my boyfriend is in the Marines, and being an anthropology major it's right up my alley," Sharp said.
The original Montford Point Marines who came to SDSU said they had no hard feelings about how they were treated and were all thankful for the opportunity to serve.
Photos by Jonathan Bonpua, Staff Photographer