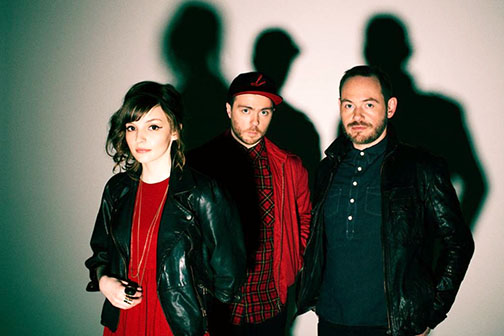 In the recent boom of the trap rave genre and its Gothic appropriation, a name like Chvrches (pronounced "churches") seems like a hit-or-miss. But the band behind the name is a wonderful synthpop trio from Glasgow, Scotland, who released a fantastic debut album "The Bones of What You Believe" earlier this year. Chvrches is currently touring the U.S. to promote the record, and will be stopping in San Diego on Nov. 19 to perform at the House of Blues. They will also perform during 91X's Holiday Bonus Show on December 6.
Chvrches got its start by sharing its songs on blogs last year. The trio first premiered the song "Lies" on the blog of the Neon Gold record label. By the time it released its first official single "The Mother We Share" six months later, Chvrches had become a popular band within the indie scene. Based on its creative arrangement of synthpop, web publications initially grouped Chvrches together with other relatively new electronic acts such as Purity Ring and AlunaGeorge. However, Chvrches quickly proved itself as a well-defined act of its own through its following singles and solid debut record.
Although the chopped vocals in "The Mother We Share" is similar to the technique found in Purity Ring's ghastly beats, the bright color of the synthesizers sets Chvrches apart. The overall music of Chvrches sounds more like a down-to-earth companion to the epic synthpop act M83. The trio shoots high with its electronic beats like M83 without sounding too over the top. Singer Lauren Mayberry stands in the center of those beats and gives the music its unique identity through her tough voice and personality.
The band's Internet origins may give an impression of Chvrches as a faceless band solely existing in cyberspace. Yet the band is a warm, friendly personality both online and offline. For a sample of its live performances, check out the band's appearance on "Later with Jools Holland," where the members energetically get into the beat. Make sure to listen to its debut record "The Bones of What You Believe" and catch their performance on Nov. 19th at the House of Blues.
Also read: Cayucas comes clean
Photo courtesy of Eliot Hazel