Consul general of Brazil speaks at SDSU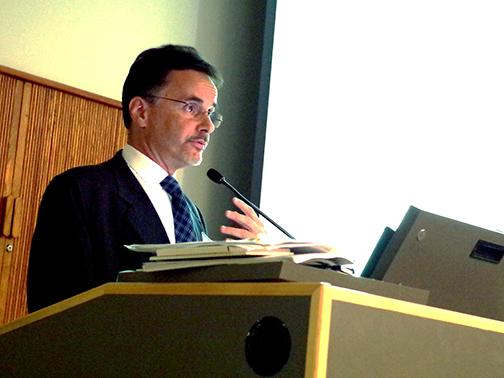 The consul general of Brazil in Los Angeles visited San Diego State on Wednesday Nov. 13 to speak about Brazil's current events.
Ambassador Bruno de Risios Bath has been a diplomat his entire life, following in his father's footsteps. Bath was born in Tokyo while his father was there serving as a diplomat.
The event commenced with a Capoeira dance demonstration. Capoeira is a traditional Brazilian dance that incorporates mixed martial arts, dancing and acrobatics. The dance team played the drums and the berimbau, which is a single-stringed instruments with a bow-like appearance.
During his presentation, Bath gave a broad overview of Brazil with an emphasis on the economic and social aspects of the country. He also talked about how the quality of life is increasing for Brazilian citizens.
"Slowly, quite surely, we are becoming a middle-class society," Bath said.
He also addressed the infrastructure projects that are ongoing in Brazil in preparation for the FIFA World Cup in 2014 and the Olympics in 2016 and their impacts on social issues in the country.
Brazilian citizens have hosted demonstrations to voice concerns that there's too much money being spent preparing for the upcoming games, while not enough funds are going to services that some Brazilians think are more important, such as public transportation.
"I think there is a wrong perception that what Brazil is doing for the World Cup is hampering other things, but that is not strictly true,"  Bath said.
He estimated only 3 percent of the government's money is going to the infrastructure projects for the World Cup and the Olympics.
Some students said they expected more from the presentation, but appreciated the cultural display and the ambience.
"I didn't know what to expect but I felt like it could have been more substantial," Spanish senior Gabriela Cariño said. "I liked the livelihood of the dance, I thought they had a lot of heart."
Student Jackie Apostol had a similar reaction.
"I thought it was a little incomplete in regards to what will happen to the jobs and infrastructure after the World Cup and (the) Olympics," Apostol said.
San Diego County Supervisor Ron Roberts presented Bath a plaque and thanked him for visiting at the conclusion of the event.
Photo by Jordan Owen, senior staff photographer