'The Laramie Project' provides an emotional experience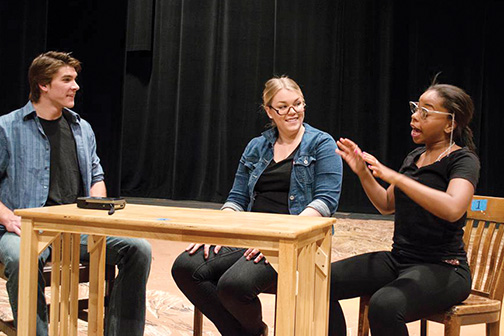 Treating others with respect no matter how different they are is a quality that many strive for. However, there are plenty of people who treat certain men and women with intolerance. Through a moving and touching production, "The Laramie Project," directed by C.J. Keith, is a play that reminds people of the importance of freedom of expression and human rights.
Playing at the Don Powell Theatre on campus, the show explores the murder of a young college student named Matthew Shepard, who was tied up, severely beaten and left to die for being gay. The tragedy is shown in a documentary fashion. It begins with a series of interviews involving friends of Matthew, the police who were involved and regular citizens of Laramie, Wyo. Throughout, the actors rapidly alter in and out of the real-life characters they portray, which adds to the diversity and entertainment of the journey. "The Laramie Project" combines humor with intensity during the individual testimonies, and in a swift transition, the audience will find that in one moment they are laughing and the next shedding tears.
The dialogue captures the reactions of people in Laramie. and demonstrates the emotional impact of the crime and how many lives were changed forever. In particular, Aaron Kreifels (Xavier Scott) took on a heavy role of being the first to find the unconscious body of Matthew. Throughout, Kreifels contemplates why God chose him to find the body, but then comes to the realization that his role was crucial in attempting to save Matthew's life. The citizens of the small town of Laramie were in shock to find that their town possessed such hatred. Because of the fact that each of the characters had a different view on homosexuality, everybody in the show was affected by the crime in a unique way.
An abundance of props and accessories were not needed, thanks to the high-quality acting and the script itself. The lack of decorations and fixtures helped viewers perceive the message. One of the scenes to highlight in the play is when Romaine Patterson (Melissa Alvarez) gives a speech stating how Matthew motivated her to pursue a career in politics. In the following sequence, Romaine and her friends dress as angels, going against the leader of the Westboro Baptist Church, Rev. Fred Phelps (Michael Italiano), was protested outside the courthouse. The angels used their wings to block Fred's view. This segment was truly full of passion and faith.
"The Laramie Project" closes with a gut-wrenching climax, in which Aaron McKinney (Matthew Gibson), one of the people accused for the murder, is tried for the death penalty. The dialogue in the scene becomes intense and is filled with emotion.
"The Laramie Project" is definitely a must see and is a fantastic way to close this semester of drama.
Also read: Rising star's talent shines on stage 
Photos courtesy of The SDSU Threatre website