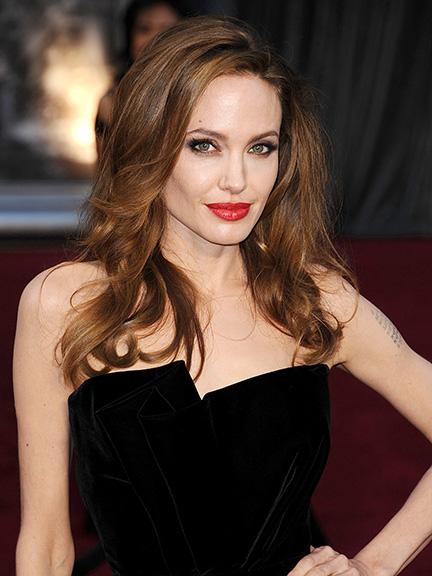 Lionel Hahn
Celebrity of the week:
Angelina Jolie was awarded the Jean Hersholt Humanitarian Award at the annual Governors Ball in Los Angeles on Nov. 16, according to Glamour magazine's website. It was a family affair as Jolie's husband, Brad Pitt, and their son Maddox accompanied her to the black-tie event. Jolie thanked her friends and family during her speech, but she made a especially long tribute to her mother. Jolie described her mother's wishes for her to help others and how she made a lifelong commitment to do so through her humanitarian efforts, usually with refugees.
"To stand here today means that I did as she asked, and if she were alive, she would be very proud," Jolie said in the speech. "So thank you for that."
Sightings: 
Singer and "The X Factor" judge Demi Lovato, co-hosted ABC's "The View," at the happiest place on earth on Nov. 18 at the Disneyland Resort in Anaheim. Lovato's appearance kicked off the beginning of her weeklong stint hosting the show, according to People magazine's website.
Another lady making a TV appearance was first lady Michelle Obama on BET's program "106 & Park." Michelle came on the show to talk about her and President Obama's advocacy for higher education with hosts Bow Wow and Keshia Chante, according to Popsugar. She discussed the president's "North Star" goal, which would place the U.S as the number one country with the highest proportion of college graduates in the world by 2020.
Romance:
Taylor Swift, the so-called songbird of our generation, is known for her catchy songs that are often about her past relationships. The singer has written numerous songs about her ex-boyfriends, with most of them being well-known celebrities. She makes it obvious about who the song is intended for by dropping many clues in the lyrics that distinguish their relationship from the others. Swift's most recent album, titled "Red," is said to be ultimately about actor Jake Gyllenhaal. According to E! Online, Gyllenhaal recently contacted Swift and told her that listening to her album was "a really bittersweet experience. It was like going through a photo album." Swift was said to be pleased with the positive response she received from him, as many times she only gets negative feedback from the subjects of her songs. Swift has written songs about her other famous exes, including Joe Jonas, John Mayer, Connor Kennedy and Harry Styles. The question is, who will Swift's next hit song be written about?
Trivia: 
1. This celebrity was the winner of American Idol's first season. She was known for being a pop star, but ever since releasing a duet with Jason Aldean, this celebrity has been considered a country artist. The singer just announced that her and husband, Brandon Blackstock, will be expecting their first child together.
A. Carrie Underwood
B. Jordin Sparks
C. Kelly Clarkson
D. Kellie Pickler
2. This Canadian-born star was first discovered through his YouTube videos that demonstrated his musical capability. Both Usher and Justin Timberlake saw this young star's talent and were interested in signing him to their record label. Usher ultimately won the competition, and he ended up signing the singer to Island Def Jam Music Group. Since then, this star has become one of the most famous celebrities worldwide.
A. Cody Simpson
B. Hunter Hayes
C. Austin Mahone
D. Justin Bieber
3. This actress is best known for her role as Rachel Green from the hit show "Friends." She has starred in multiple movies for almost two decades. Some of her more recent flicks include "Just Go With It," "Horrible Bosses" and "We're the Millers." She is currently engaged to her "Wanderlust"-costar Justin Theroux.
A. Courtney Cox
B. Jennifer Aniston
C. Lisa Kudrow
D. Jessica Simpson
Also read: Hollywood Happenings: Starring Eminem
Compiled by Brooke Schlyer and Bekah Haynes
Photo courtesy of Lionel Hahn/Abaca Press/MCT