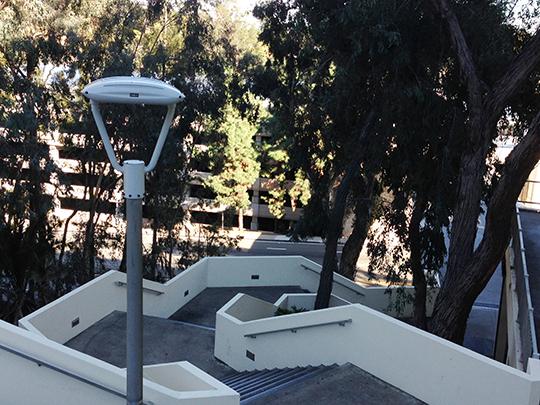 San Diego State is 116-years-old. Its age raises the inevitable issue of ancient buildings with inadequate exterior lighting posing a possible danger to students.
Many students often find themselves walking about campus in areas of darkness and ultimately feel unsafe.
"(The) lighting is somewhat of a danger to students that walk at night," liberal studies sophomore Jade Mathis said. "Because of the lack of lighting in some areas, it has become a serious threat that targets students into getting robbed, harassed, and … seriously hurt."
Students may not know that SDSU's Facilities Services works hard every day to combat the issue of poor lighting on campus.
Electrical Services Manager Alan Martin said SDSU currently has two employees devoted to repairing and maintaining a well-lit campus. These employees work Monday through Friday from 3:30 p.m. to 12 a.m. fixing any lighting problems, Martin said. Martin has been with SDSU's Facilities Services for 31 years.
"We are aware of the problem," Martin said. "… but many of these problems require trenching, installing conduit and new fixtures."
Such work requires the spending of allocated funds. However, Facilities Services has many accounts from which money can be spent. For example, if a light in a parking structure or parking lot is broken, funds from the "parking account" are used to repair the problem, Martin said. The department falls under the university's Division of Business and Financial Affairs.
Since Jan. 1, campus electricians have spent more than 1,800 hours repairing and replacing exterior lights. These repairs cost more than $109,000 in labor and almost $35,000 for materials Martin said.
During the summer, Facilities Services finished a project that provides light for the pathway in between the Open Air Theatre and Adams Humanities. Facilities Services is currently working on retrofitting Parking Structure 1 with LED lights.. Martin said this will not only provide the structure with brighter lighting, but save the school money as well.
The SDSU police department regularly surveys the campus alongside facility services to ensure the campus is properly lit. This occurs on a case-by-case basis SDSUPD Capt. Josh Mays said.
"If an officer notices lights are out or there are certain areas that don't seem as lit, we refer that information to (Facilities Services)," Mays said.
Mays said that the SDSUPD employs portable light towers in areas of darkness when an event is hosted on campus. He advised that everyone walk in well-lit areas in all hours of darkness.
Students are encouraged to report issues of broken lights or submit recommendations for areas that could be improved to campus police at 619-594-1991 or directly to Facility Services at 619-594-4754.
Photo by Victor Escoto