NAU ends Hockey Club's winning streak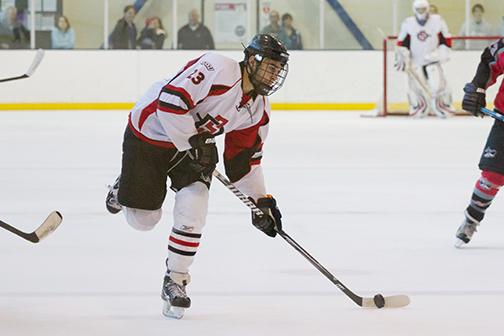 The San Diego State Hockey Club's six game winning streak came to an abrupt end this weekend, as they were swept in two games by No. 2 Northern Arizona University. The Aztecs, 9-6 overall and 9-4 in the West region of the men's Division II American Collegiate Hockey Association, have suffered all of their losses this season to schools from Arizona, including 4-2 and 4-1 losses on Friday and Saturday, respectively.
Coming off of a win against NAU on neutral ice last weekend in San Jose, SDSU entered this weekend hungry for a marquee win at home. Unfortunately for the No. 6 ranked Aztecs, their offense didn't show up for either game.
[quote]"We've been stressing coming out with a purpose, and tonight the guys were sleeping a little bit in the beginning," head coach Chris Migliore said following Friday's loss. "I don't know if that was from the long weekend we had last weekend, or what's going on outside the rink, but that's a good team. That's the competition we're going to be playing when we go to regionals. The guys got to come out with a little more urgency."[/quote]
SDSU was outshot in the series 75-55, and went a combined 1-16 on power-play opportunities. Perhaps the more alarming statistic taken from the Aztecs' lackluster weekend was their inability to tighten up in the third period. Trailing 2-1 at the end of two periods in both games, sophomore goalie Connor O'Brien and the SDSU defense proceeded to allow the Ice Jacks to score twice in the final periods.
[quote]"We took penalties in the third in crucial moments when we just needed to play our game, and we lacked for that," freshmen defenseman Vincent DiMaggio said following Saturday night's game. "It was a good learning experience against a good team. They showed us that a top team in this league is going to come to play every time. We need to be adaptable and we need to step up."[/quote]
SDSU will look to rebound after the rough weekend and improve its standing in the ACHA Western Division, as it prepares for a six game stretch against lower-ranked divisional opponents. Pay close attention to how the Aztecs fare through that six game span. A perfect record would give them much-needed confidence before they head into a two game home series against Arizona State University at the end of January. A good showing against the division leaders is absolutely necessary if SDSU wants to land a top-five spot in the division.
Friday, Dec. 6 will be the next chance to watch the Aztecs as they take on California State Fullerton. Tickets are free with SDSU student Red IDs.
Photo by Kristian Carreon, Staff Photographer