Professor loves legendary auteurs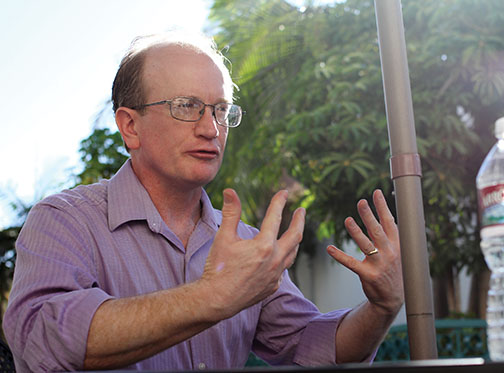 Stuart Voytilla has taught many classes in the School of Theatre, Television & Film; such as TFM 310; "Film, TV & New Media Criticism;" TFM 330; "Cultural Aspects of Media;" and TFM 510; "Advanced Script Writing for TV and Film." Despite his busy schedule, Voytilla was able to make some time to talk about his career, the golden age of film and some of his favorite writers and directors.
The Aztec: What is your involvement with the film industry outside of San Diego State?
Stuart Voytilla: I do a fair amount of consultation. I evaluate screenplays. I still write some spec scripts. I have one spec that I have been revising. A lot of my recent professional work has been helping a pair of producers in Los Angeles getting their television series launched. We are trying to sell that right now. The development process can take a while, but it is a wonderful experience.
I'm working with my production/writing partner on the East Coast, Mark Redfield, on a series of audio plays for Poe Forevermore Radio Theater in Baltimore, and we're launching our original radio mystery series "Vampire Hunters, Inc" early next year. I'm also writing a libretto for a musical.
TA: Who are your favorite filmmakers of all time and why?
SV: For classic filmmakers, I love Billy Wilder's work. He was able to go across genres and could tell a great story as a writer and director. I have a passion for Alfred Hitchcock as well. In terms of more recent filmmakers, (Martin) Scorsese is one who took a lot of risks and continues to invest a lot of himself in his stories. He knows how to use technology creatively and still be able to film adventures that don't fall into clichés and can really surprise us.
The Coen Brothers do the same thing for me. They have such command of technology and genre to the point where they draw us into a specific genre and subvert it. I have great respect for Wong Kar-wai because he explores narrative choices in a very fascinating way.
TA: Up to now, what is the moment you are the most proud of in your professional career.
SV: I am enjoying a wonderful journey in the arts and often don't look back, but am proud of what is yet to come, especially in the future achievements of the students that I've had the pleasure to mentor. Also, I'm most proud of my daughter who's developing into a talented and wise artist and producer in dance and media.
TA: Any advice for SDSU students, in general?
SV: What's important to remember is what is driving you as a storyteller and to be patient. Some professional screenwriters don't get their big break until they finished six or 12 screenplays.
The other piece of advice I have is that it's very difficult to rip character away from the plot. They work together. A plot will turn because of the main protagonist; and I bring up "Die Hard" and "Raiders of the Lost Arc" to my students. Those two action films are defined by their heroes. Without the protagonists, those movies would not have worked.
Update: This article has been edited to correctly identify the organization of the Poe Forevermore Radio Theater in Baltimore 
Also read: Movie producer has advice for SDSU students 
Photo by Kristian Carreon, staff photographer