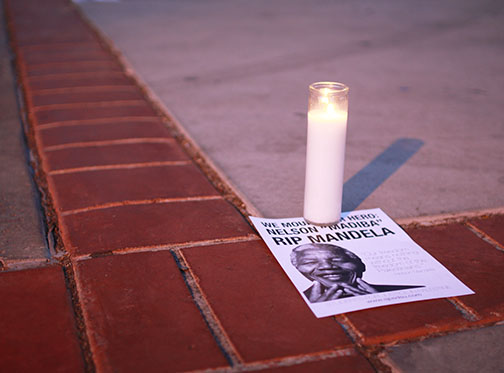 On Friday evening San Diego State's Students for Justice in Palestine hosted a vigil in honor of Nelson Mandela at Hepner Hall.
Twenty candles were set out, each sitting upon a sheet of paper with the Mandela quote, "Our freedom means nothing without the freedom of the Palestinians."
Students from the Queer Student Union, as well as students passing through, joined together for a moment of silence to remember Mandela as "not the icon that people know him as, but what he did (for our cause)," SJP co-chair and television, film and new media production and international security and conflict resolution senior Nadir Bouhmouch said.
SJP put the vigil together because Mandela served as one of the main supporters for Palestinian justice, Bouhmouch said.
Communications senior Mario Sanguinet was just walking by when he saw the vigil. He said that it was unexpected, but he appreciated the sentiment behind the event.
Women's studies and ISCOR senior Jessika Seekatz said that she is remembering Mandela for the three lives he lived.
"He spent 27 years in prison, which to me, that is the ultimate sacrifice," Seekatz said. "Up until the very last part of his sentencing, he thought he was going to be in there for the rest of his life, and he was OK with it because the cause meant that much to him."
Seekatz said the world should look to him as motivation to do what is necessary and right for humanity.
Photo by Jonathan Bonpua, Staff Photographer