Extended Studies holds SDSU Writers' Conference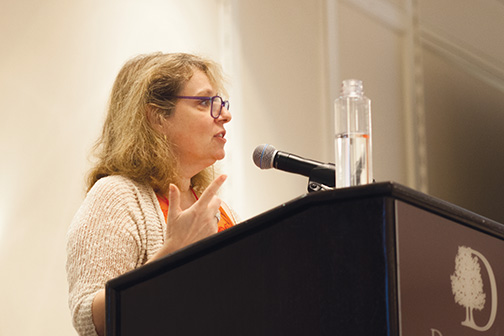 Last weekend, San Diego State's College of Extended Studies hosted the 30th annual SDSU Writers' Conference at the DoubleTree Mission Valley.
The Writers' Conference is held to help writers at all writing levels. College of Extended Studies Executive Director of New Initiatives and Outreach Wendy Evers said about 310 were registered for the weekend conference.
The conference also gives writers a chance to network with other authors.
"What makes this conference different from others is we have authors that write both fiction and nonfiction," author and SDSU Writers' Conference Coordinator Erin Quinn said. "We have a little of everything."
Erin Quinn, as well as the SDSU College of Extended Studies and others, contacts editors and agents across the country to work with writers at the conference. One of the agents at the SDSU Writers' Conference was partner and agent at Foreword Literary, Laurie McLean
"This is the first time I had been invited to be on the faculty of the SDSU Writers Conference," McLean said. "I had been hearing about it for years."
Attendees had an opportunity to get one-on-one appointments with editors and agents at the conference.
"It's a huge thing to be able to get 10 minutes of someone's time that can actually guide you or buy your book," Quinn said.
Writers who attended the conference could also submit manuscripts to editors beforehand so editors could look over the writer's work.
"I go to writers conferences with the hopes of finding a 'diamond in the rough' writer whose work I fall in love with enough to feel I can eventually sell it to a publisher," McLean said.
College of Extended Studies Dean Joe Shapiro said the conference connects and brings authors, agents and other writing professionals together and "helps people in San Diego make their breakthrough."
"They will have an appointment with that editor or agent during the conference to have the writing critiqued," Shapiro said. "Almost every year of the conference, somebody gets a publishing contract right after the conference."
The conference also featured keynote speakers, including New York Times bestselling author Sylvia Day and executive editor at William Morrow and editor director at Avon Books Carrie Feron. It is the first time the SDSU Writers' Conference has had a New York Times bestselling author as a speaker, Evers said.
The conference held many breakout sessions for different genres, including mystery, romance, children's books and science fiction. The sessions are put together to help writers network with other writers interested in specific genres.
"Networking is extremely important," Quinn said. "If you have not built a network of people that can help and talk to you about your book, it can just sit on the shelf and die."
Photo by Wesley Beights, Staff Photographer