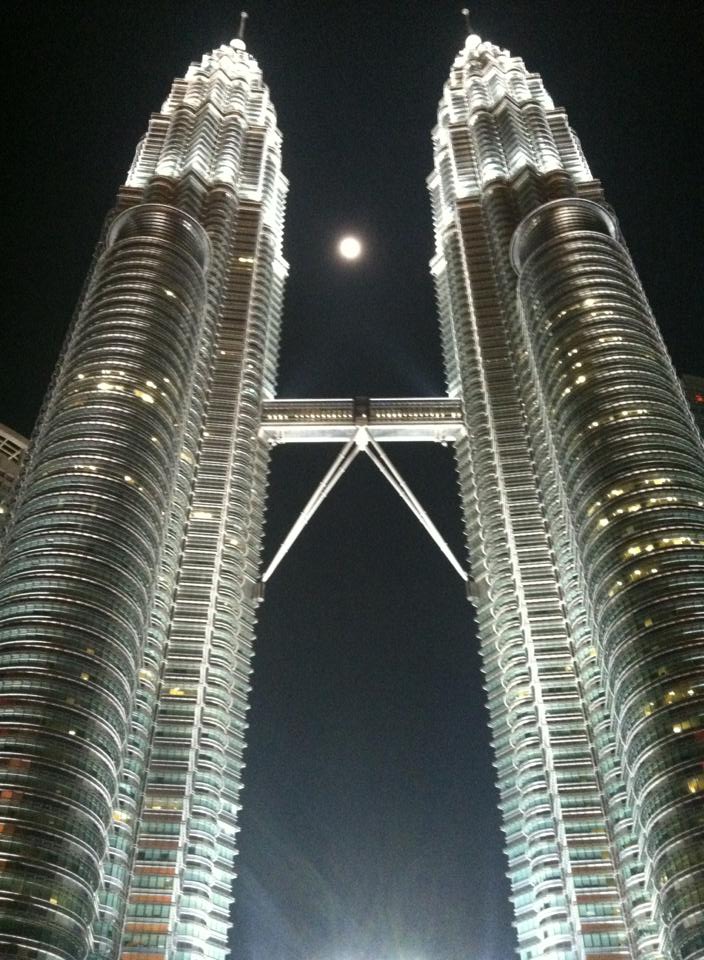 My mom is from Malaysia, and her entire family is still there, so every other year my parents and I go to visit. I've been to Malaysia a total of 8 times in my 19 years of life (9 times if you count the time I was still in the womb).
Malaysia is a culturally diverse and advancing Southeast Asian country, full of beautiful sights, friendly people and amazing food. The capital, Kuala Lumpur, has become highly developed over the years and is always advancing. It's in this city where the famous Petronas Towers can be found. At night, the towers are lit up and the fountains outside make for a gorgeous picture. And inside the towers is a mall to suit all your shopping needs. If you're feeling a bit risky, another popular go-to place is the black market on Petaling Street. Here you can buy pirated clothes and accessories, as well as food. You just have to watch out for hassling sellers and pickpockets in this crowded outdoor market.
My mom, however, is from a fishing village called Port Klang, the largest port in the country. It's definitely a scenery change when you leave the big city and head out into the rural areas. It's almost an entirely different place. Port Klang is an old town with shop houses, outdoor markets, hawker stands, and the same people who never change. Everyone in town knows each other, especially my family because we're the only Americans who ever go there. It's almost like stepping into a time machine and going back 50 years into the past. You'll see open drainage and sewer systems, garbage on the side of the road, stray animals roaming the streets and lots of mosquitoes. But don't let that scare you off. If you can get past the not-so-ideal conditions, you will still enjoy it. I'm so used to it, of course, since I've been there so many times. Each time I go back, I notice that hardly anything changes. The same people are at their hawker stands cooking the same food, the same neighbors still live around my grandparents house. I think the only change is that most of my relatives' houses have finally gotten wifi and cable, so it makes the times spent indoors more entertaining. Although I grew up in America and I'm technology and media obsessed, I thoroughly enjoy getting to live a simple and less consumeristic lifestyle, but only for a month.
Of course, getting to see my huge family is the best part about Malaysia, but if you don't have family as an excuse to go visit, use the food as one. Malaysian food is to die for, and there's so much variety to choose from, from Malay to Indian to Chinese to European even. Trust me, you WILL gain weight. The food is so cheap with American dollars you can afford huge feasts for so little and you'll probably eat up to 5 meals a day. The amount of times my family has gone out for food at midnight is ridiculous. Do what my dad does and exercise all year just to gain it back in Malaysia.
Malaysia may not be very high up on the go-to list of places to travel to, but it's a different experience that I think a lot of people will find rewarding. The scenery is amazing, the people are welcoming and the food makes it all worth while.