SDSU football welcomes 25 recruits for 2014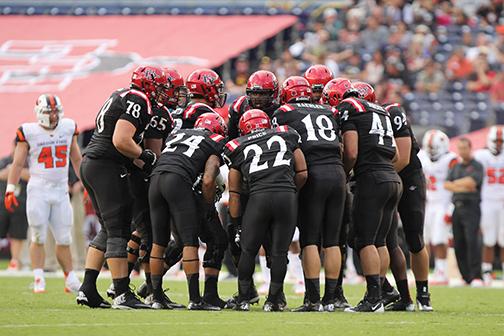 The San Diego State football team picked up 25 recruits on national signing day, the most in Rocky Long's tenure as head coach.
SDSU coaches eagerly arrived to their offices as early as 4 a.m. and stayed until the very last letter arrived at 10:15 a.m. Seventeen letters came from California athletes—13 specifically from southern Calif. Long said SDSU's local recruiting achievements stemmed from the program's recent, unprecedented success.
[quote]"All of a sudden, right now, it's ok to come here," Long said. "We compete, we beat people we're not supposed to beat and we go to bowl games."[/quote]
Seven out of the 25 recruits are junior college transfers. Long said SDSU pursued more experienced transfers than usual to fill roles left by graduating seniors, and to increase competition among those players seeking a starting spot.
[quote]"Competition makes everybody better … competition is a wonderful thing," Long said.[/quote]
The Aztecs graduate 18 players this season and will lose junior running back Adam Muema to the NFL draft. Like every team in the country, SDSU sought to improve in all positions. However, Long and his staff particularly needed to recruit offensive linemen, running backs and kickers.
How'd they do?
Offensive linemen
Recruits:
Alex Anderson (6'5", 290 lbs.) Freshman, Saguaro High School, Scottsdale, Ariz.
Joe Salcedo (6'7", 280 lbs.) Freshman, Bishop Diego High School, Santa Barbara.
Caleb Brady (6'5", 310 lbs.) Junior, Brewer High School/Tyler College, Forth Worth, Texas
Pearce Slater (6'7", 340 lbs.) Junior, Taft High School/El Camino College, Los Angeles.
The first thing you might notice: these new linemen are big. The two freshmen need time to develop their college game, but Brady and Slater exemplify the transfers that Long recruited to immediately fill roles—specifically the roles of Bryce Quigley and Japheth Gordon, the two linemen SDSU lose next year. 247sports.com ranked Brady and Slater as the No. 33 and No. 31 linemen in the 2014 class, respectively. Brady earned all-conference honors at Tyler College. Slater, who chose SDSU instead of the University of Illinois and the University of Utah among others, helped El Camino College increase its offensive production by 103.1 yards per game in his sophomore season. These guys definitely fill the Aztecs' needs.
Running backs
Recruits:
Rashaad Penny (5'11", 200 lbs.) Freshman, Norwalk High School, Norwalk.
William Walker (5'10", 190 lbs.) Freshman, Citrus Hill High School, Perris.
Daryl Dunlap (6'2", 220 lbs.) Freshman, Troup High School, La Grange, Ga.
With Muema declaring for the NFL draft, SDSU needed to recruit a powerhouse runner to complement now-starting running back Donnel Pumphrey. Penny stands the best chance, hailing from a power-run scheme at Norwalk High School. In his senior season Penny carried the ball 216 times for 2,504 yards and 41 touchdowns. Penny's ESPN scouting report identifies his strength and great hands as his greatest attributes, even though he ran a 4.68 40-yard dash. Walker and Dunlap put up incredible numbers in high school, too. And let's not forget sophomore running backs Chase Price and Dwayne Garrett. These five players will compete all off-season for the second starting role and I'm excited to see who comes out on top. The Aztecs are set in the running back position for a few years.
Kickers
Recruits:
John Baron II (5'11", 175 lbs.) Freshman, Chaparral High, School Temecula.
Donald Hageman (6'1", 170 lbs.) Junior, Damien High School/Mt. San Antonio College, Covina.
I don't need to ramble about this: the Aztecs had a kicking problem all year, and it cost them at key moments during the season. Therefore, SDSU focused on recruiting kickers for the 2014 class. The red and black picked up two very different kickers: a raw, freshman kicker with a leg that the ESPN scouting report identifies as the strongest kickoff leg in the country, and an experienced, junior college transfer with a precision leg who recorded 111 points in his sophomore year at Mt. San Antonio College. During the press conference on national signing day, Long made it clear the hoped his new kickers would play next year, and play well.
[quote]"We know the high school kicker has a lot of ability and he might be our kicker next year, but it's hard on freshmen to be put in that kind of position," Long told reporters. "So we also have a junior college kicker who has been kicking there for two years and has a little more maturity and was 20 of 21 in field goals last year."[/quote]
According to 247sports.com, SDSU's 2014 recruiting class ranks second in the Mountain West and 73rd nationally. You can see the entire recruiting class, including video highlights, on Goaztecs.com.
Photo by Monica Linzmeier, Photo Editor