Professors explain Faulconer's special election win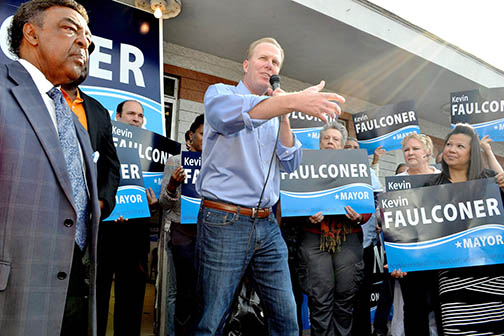 In the early hours of Feb. 12, Rebublican city council member Kevin Faulconer was elected mayor of the city of San Diego. He beat his opponent, fellow councilman and Democrat David Alvarez, by 10 percent of the vote, an astounding lead in a moderate city such as San Diego.
The 38 percent voter turnout for the special election was lower than other elections, according to the Los Angeles Times.
"Special election voter turnout is usually a lot lower and that generally helps Republican candidates," San Diego State political science professor Brian Adams said.
With factors such as the Latino vote being an important part of the election's outcome, both candidates made an effort to appeal to the specific demographic.
"Alvarez is Latino and there was a chance of making history," Chicano and Chicana studies professor Isidro Ortiz said. "He would have been the first Latino mayor of San Diego and that was very appealing to many voters."
Latino voters comprised a large portion of Alvarez's support because of key issues valued by the San Diego Latino population.
Alvarez, a native to the San Diego community of Barrio Logan, devoted much of his campaign to prioritizing the issue of refurbishing communities in San Diego.
"He was a candidate who talked about the importance of investing in the neighborhoods, and Latino neighborhoods in San Diego have historically been neglected," Ortiz said.
Another issue that captured the attention of many Latino voters was Alvarez's support for labor unions and an increased minimum wage, Ortiz said.
Although much of the Latino support went to Alvarez in pre-election polls, the number reflected by voter turnout was low, Adams said.
"Alvarez wasn't able to mobilize his base in a way to get the hardcore Liberal Democrats and Latinos out to actually vote at the polls," Adams said. "Clearly he had a lot of support in those communities but he didn't have enough of them actually show up to vote on Election Day."
Faulconer also received an endorsement from the Latino American Political Association of San Diego a month before the election, giving him a slight edge on his opponent.
Party lines were another key factor in the Faulconer's success, political science lecturer James Ingram said. His campaign made a point to appeal to San Diego's Independent voters through his modest stances on social issues and support of environmental issues, Ingram said.
"Faulconer was able to appeal to the Independent voters, which make up almost a third of San Diego voters," Ingram said. "Him getting elected shows the importance of the Independents in San Diego."
Ultimately, Faulconer's endorsement from former mayor Jerry Sanders may have provided the push behind his election, Ingram said.
Since Faulconer's ideology is similar to former mayor Sanders, not many radical changes were expected for the city of San Diego.
"It is sort of a return to the status quo,"Adams said. "He's very pro-downtown business community and we're going to see a lot of the same types of policies that we saw before Mayor Bob Filner."
Photo courtesy of Kevin Faulconer.