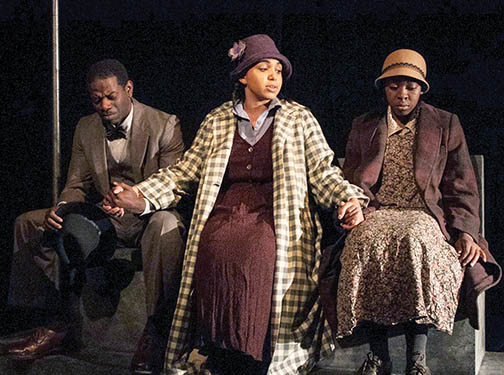 The Moxie Theatre's production of "Crumbs from the Table of Joy" makes it seem as though the audience is watching a coming of age novel brought to life. Extensive narration and stylish language is used to tell the tale of a young black girl living in the 1950s.
Following the death of her mother, Ernestine Crump (Jada Temple) moves with her mischievous sister, Ermina Crump (Deja Fields) and father, Godfrey Crump (Vimel Sephus), from Florida to Brooklyn, New York. Devastated by the loss of his wife, Godfrey becomes a very religious man and tries to make his daughters just as spiritual as he. Soon after they get situated, Ernestine's sharp-tongued communist aunt, Lily Ann Green (San Diego State's Cashae Monya), decides to join the family in their new residence. While Godfrey finds her attitude and ways of life frustrating, Ernestine and Ermina become fascinated with their eccentric aunt.
The Moxie Theatre Artistic Director Delicia Turner Sonnenberg, who also co-directed SDSU's production of "The Labyrinth of Desire" with Peter Cirino, displays her versatility as a storyteller. She stage managed the original version in 1995 at the Second Stage Theatre off-Broadway.
This comedic drama is significantly more upbeat than some of Sonnenberg's more recent works, including Moxie Theatre's "Skinless" and "The Amish Project," which was produced by the Mo'olelo Performing Arts Company.
Sonnenberg's direction is frequently creative, especially with how she handles Ernestine's monologues and dream sequences. These moments feature visual imagery that is both tongue-in-cheek and poetic.
Pulitzer Prize winning writer Lynn Nottage deals with deep themes and ideas about intolerance, relationships and feminism. The messages are presented in a subtle manner, which keeps the plot from turning sappy or melodramatic.
All the performers make their characters find the humanity in Nottage's prose. Temple has such a relaxed stage presence as Ernestine and the snappy writing comes across as natural. She earns the audience's sympathy with her charisma and witty timing.
Monya brings an abundance of energy and irresistible snark as Lily. Although Lily is far from a perfect person, Monya is such a delight to watch, the character never becomes dislikable.
Fields and Sephus provide solid supporting work throughout. The two performers could have made their roles cartoonishly broad, but both of them wisely underplay their parts as members of the Crump family.
"Crumbs from the Table of Joy" uses humor and pathos to create an identifiable play about growing up during an ugly period of American history. The emotional tone and messages should resonate for all.
Also read: A fresh and honest cautionary tale
Photo courtesy of Daren Scott