Aztec Shops matches competition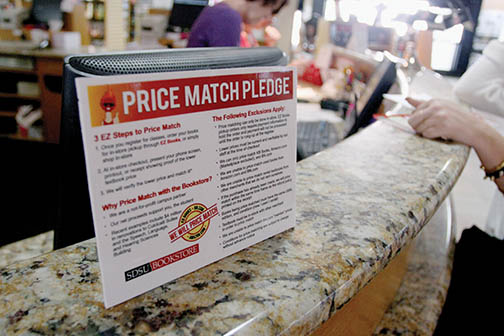 Price matching and Aztec Shops' recent purchase of the land KB Books sits on has caused concern to the owner that the San Diego State bookstore may be trying to squeeze out the competition.
"KB Books is not our main competitor as local competitors are becoming increasingly irrelevant," Aztec Shops Director, Todd Summer, said.  "Our main competitors are on the internet."
At the start of this semester, the SDSU Bookstore, which is owned by Aztec Shops, revived its marketing campaign for the price matching policy in order to revitalize awareness and compete with local and online stores.
"We've always done price matching, but this particular rush, I felt like there was definitely more advertising put into it," SDSU Bookstore Assistant Associate Director Melinda Avestruz said.
According to Aztec Shops Director Todd Summer, the campaign, which included emails being sent to students, came about since surveys showed students were unaware of the price matching policy.  Since this particular rush saw more price matching than in previous semesters, it raises questions about the reaction of KB Books.
"It hasn't made any impact on us from a sales standpoint," KB Books founder and CEO Ken Appel said. "The way I look at it is people know our prices are set lower so they check with us first."
"I shop at KB Books," environmental studies junior Spencer Moen said. "It's convenient, right on campus and it has cheaper prices."
The SDSU Bookstore price matching policy states if Amazon.com, BN.com or KB Books offers a text at a cheaper price and the book is in stock, they will match that price.
"I'm not a fan of their pricing, because they know their prices are higher," Appel said.  "They're saying we know our prices are higher and we will fix it if you catch us."
Summer said the policy simply provides students an option to stay with the Aztec Shops bookstore.
"[It] saves students some money and still allows us to support campus programs with our net from operations."
Biology senior Adriana Guzman said she buys from the Aztec Shops bookstore because of its convenience.
"I'm usually in a rush, so I just want to get the book right on campus to start it right away," Guzman said.
A more informal competitor of both bookstores is the not-for-profit, student-created website SDtexty.  Created in 2012, the site is run by a SDSU student who chooses to remain anonymous.
"Since the school system seems to hate me for creating a website that takes business away from the bookstore, even if it's in the benefit of students, I remain anonymous as to not let it affect my academics," the SDtexty admin said.
The site provides a bridge for students to sell books to one another at whatever price the owner chooses, whether it's higher or lower than the original price.  According to SDtexty, about 19,000 students have used the site since its creation.
"We think [competition] is good," Appel said.  "Students don't benefit from having a local monopoly."
KB Books sales actually increased this semester 5 to 10 percent from a comparable time last year according to Appel. SDtexty's servers crashed because of record traffic in the same time period, according to the admin.
Aztec Shops has also expanded the commercial space it owns surrounding the SDSU campus. It recently purchased the land near the end of the student union footbridge, on which KB Books, Cal Copy and Dominos Pizza sit.
Aztec Shops has only offered KB Books a one-year lease this past September, according to Appel.
However, Appel expressed concern about the future of KB Books after Aztec Shops' recent purchase of the land.
"What we've been told is the university wont let (Aztec Shops) offer anything longer, which to me means they are trying to figure out a way to get rid of us."
When asked about the situation, Summer didn't know specifics of the lease, but said the parcel that KB Books sits on is in a redevelopment area.
"What I think will impact students is if there is no competition – prices go up and service goes down," Appel said.  "Whether you shop at our store or not, you benefit from us being there."
Photo by Monica Linzmeier, Photo Editor