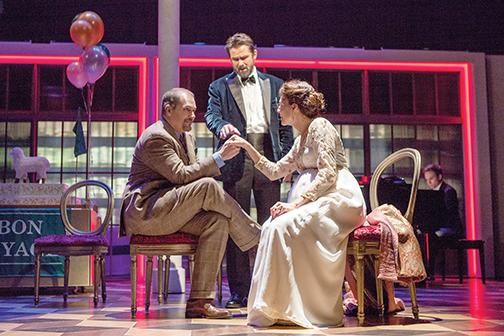 Jim Cox
The following is a review of a new production of William Shakespeare's "The Winter's Tale" at The Old Globe Theatre, not the critically panned Colin Farrell movie, "Winter's Tale."
This particular version is set in a more modern world where basketballs, Legos and tape recordings all exist. In the kingdom of Sicilia, King Leontes (Billy Campbell) appears to have a happy life with his wife, Hermione (Natacha Roi) and intelligent son, Mamillius (Jordi Bertran). However, he soon becomes paranoid after his royal friend, Polixenes (Paul Michael Valley) the king of Bohemia, comes to visit. Leontes begins to believe his pal is having an affair with his wife, which leads to him gradually growing more dangerously insane.
From the sound of the dark premise, it would seem the three-hour interpretation is a classic Shakespeare tragedy. This turns out to not be the case, because the end of Act I and the majority of Act II abruptly deviate into an upbeat comedy with romance, goofy characters and even a couple of musical numbers. Because of the jarring shift of tone, the epic is labeled as one of the Bard's "problem plays."
Acclaimed artistic director for The Globe Barry Edelstein directed the tragi-comedy in 2003, produced by the Classic Stage Company Off-Broadway. Given the fact that he is a renowned expert on Shakespeare, many in San Diego have been anxiously waiting for this work to open.
Edelstein knows the material very well and embraces the oddness of the text. However, since the plot is extremely complicated and requires people to suspend their disbelief on many different occasions, the appreciative audience may be limited. Additionally, patrons might feel distant to the action onstage, for the activity rarely slows down after some early scenes of exposition.
Regardless, there is much to admire, from Edelstein's use of visually-striking sequences to the ensemble, which includes standout work from Campbell, Roi and especially Paul Kandel as a singing and dancing conman, Autolycus. Without his devilish comic timing, Act II would not be quite as enjoyable.
On piano, Music Director Taylor Peckham plays Michael Torke's score, which was created for the 2003 rendition. Peckham shows his versatility as a piano player who can play music that is both suspenseful and jovial.
Though "The Winter's Tale" will probably not be adored by a Shakespeare novice, those familiar with the text will find plenty to delight in. I, for one, will now be counting down the days until Edelstein's take on "Othello" opens at the Summer Shakespeare Festival.
Also read: A few 'Crumbs' satisfy audiences
Photo courtesy of Jim Cox