Don't judge Greek by its letters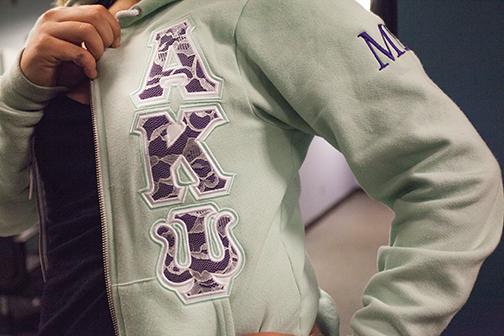 It's not often that a person is judged off a T-shirt. It's not often that a person is judged because of a jacket. It's especially not often that a person is judged by two or three letters. Well, at San Diego State, it's often that people are judged by all three.
Greeks are judged by non-Greeks, teachers and faculty, and even more by fellow Greeks.
The reputation affiliated with Greek Life is pointless and typically untrue. However, the reputations that Greek chapters create about each other consist of a whole new world of traditions, stereotypes and probably boredom.
Last semester, my boyfriend had work until midnight on a Friday. He picked me up from my dorm and took me to his house. When we arrived, he randomly surprised me with a beautiful bouquet of pink roses. Very sweet and romantic, right? I thought so.
My boyfriend happens to live in a fraternity house. People were in and out of his room throughout the night and gave him nothing but praise for his chivalrous deed. While one of his friends was holding the bouquet of roses, a girl walked in the room and said, "Who in this fraternity would buy a girl flowers?" The room went silent, faces looked shocked and then everyone just laughed it off.  My boyfriend then stated, "I did." Soon after, the other guys in the room started discussing how they too would buy flowers for their girlfriends. This story is just a taste of how those affiliated with Greek Life are often put into stereotypes that are hurtful and fallacious.
The girl who made that comment not only overlooked the character of the caring and compassionate men in the fraternity, but also of the entire Greek community. By making an assumption about one fraternity, she generally proves the speculation that fictitious categorizations circulate about all Greek chapters.
It's so easy to place people in labeled groups because it takes time and effort to get to know an individual's personality. A lot of the time students, especially freshmen, accept what they hear about Greek Life because they don't have reliable sources to help them separate what's false and what's true.
I remember my first week of school. I heard a lot of negative rumors about the Greek community. However, throughout my time at SDSU I've met a lot of amazing people involved in the Greek system who have shown me otherwise.
Members of the Greek system tend to be judged solely by the letters they represent, which is unfair.
I sat down with a Panhellenic sorority president who chose to remain nameless.
"When I'm not wearing letters and if the people I'm around don't know what sorority I'm in, I definitely feel a little more free," she said. "I feel like they don't judge me by the chapter I'm affiliated with, but by who I actually am."
How is it reasonable that when people see this woman representing her sorority, they look at her with preconceived notions of who she may be, but the moment she takes off her letters, she has a clean slate?
What's predictably overlooked is the great people in the Greek community and the great things they bring to the table.
"I make an effort to wear letters everywhere I go," Phi Kappa Theta executive officer and criminal justice senior Sean Guardian said. "I like to wear them and invite in that skepticism that people have. I think the best way to combat the negative perception of fraternities at SDSU is to show people through my actions and words that there is more to a fraternity than its stereotype."
The men and women of the various fraternities and sororities of SDSU have done great things for this school. They are highly involved on campus and have served numerous hours of community service.
People need to stop looking at the wrongs of Greek chapters and consider the rights. Those who are not involved in Greek Life and those who are should take the time to get to know the individuals in chapters before contributing to the art of wrongful judgment.
Photo by Monica Linzmeier, photo editor