Former women's basketball coach sues SDSU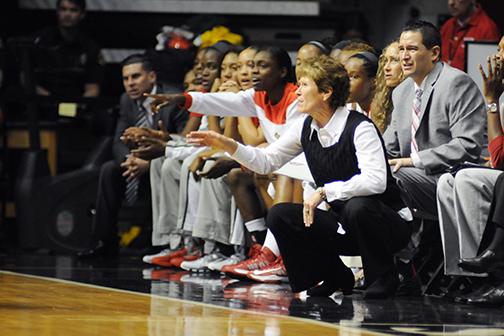 Former San Diego State women's basketball coach Beth Burns is suing the SDSU for wrongful termination. The claim, filed on Feb. 18,  covers complaints regarding retaliation, a breach of contract and breach of the covenant of good faith and fair dealing.
After leading the program for 16 years with a 295-186 record, SDSU's Director of Intercollegiate Athletics Jim Sterk told Burns she must either resign, retire or be fired because of an alleged strike to a subordinate caught on camera during a game in Feburary 2013. Because of the risk of losing retirement benefits if she was fired, Burns chose to retire.
This is the second lawsuit by Burns since she retired. The first claim was filed last October against the California State University system also for wrongful termination. It is as of yet unclear why Burns has turned her sights from the CSU system to SDSU.
Burns received strong criticism during her career for her repeated complaints regarding the inequalities between the men's and women's athletics departments. She fronted successful attempts to make tickets for the women's basketball game available for sale online, as they were with the men's games. Burns claims her termination was an act of retaliation on part of SDSU about her ongoing objections.
"Coach Burns is informed and believes that she was criticized internally for speaking out on behalf of women's basketball. In 2010, Richel Thaler tried to limit Coach Burns' contract extension to one year, telling others that Coach Burns is 'rough around the edges,' according to court documents.
A year prior to her termination in April 2013, Burns had extended her five-year employee agreement with SDSU with an annual pay of $220,000, in addition to bonuses. The agreement states SDSU would be permitted to terminate Burns for any cause.
According to the official complaint, Burns' career has suffered because of SDSU's bad faith termination, and she has been unable to obtain another coaching position despite her record-setting career.
Burns led the team to "six regular-season conference championships, four league tournament titles, and seven NCAA tournaments, including one Sweet 16 appearance," as stated in the court documents.
The video, which serves as the sole evidence for Burns' termination, was footage taken from a game two months prior to her termination. The footage shows contact between Burns' and the women's team staff member Adam Barrett, but the court document has labeled  the contact as unintentional, making the evidence an illegitimate cause for termination.
SDSU provided Burns the video two months after her termination, a time which would have been the prime time for Burns to seek a new job, according to the complaint.
"These two months would have been the best time for Coach Burns to pursue a new coaching opportunity, because it is the typical time of year for staff changes in women's basketball," as stated in the official complaint. "By waiting two months, SDSU materially limited Coach Burns' job opportunities."
SDSU Chief Communications Officer Greg Block and the athletics department Assistant Media Relations Director Jim Solien said the university can't comment on the pending litigation at this time.
Photo by staff.