Aztecs finish strong at Mary Nutter Collegiate Classic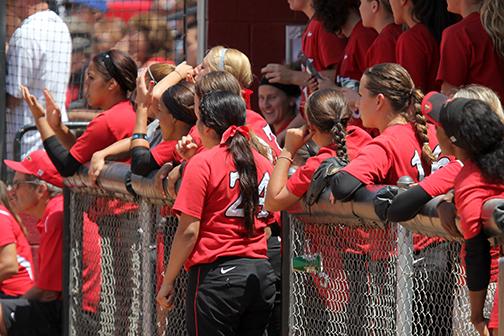 The San Diego State Softball team played in the Mary Nutter Collegiate Classic in Cathedral City this past weekend, going 2-3 overall.
The team began on Thursday with a win against Fordham University, who scored early on. Aztec redshirt senior Patrice Jackson homered with one on base in the fourth to score two runs, her fifth home run of the season. The Aztecs went on to score twice in the fifth inning and once in the sixth, giving them the lead before they gave up three runs in the seventh inning, however, the Aztecs were able to end the game 5-4.
Later that night, the Aztecs went on to play against Texas University A&M, where both teams were scoreless until the bottom of the fourth when Aggies senior Taran Tyler was walked and put into scoring position on a wild pitch, and brought home by a single up the middle. The Aggies scored again in the fifth. It wasn't until the sixth inning that the Aztecs scored, but it wasn't enough. SDSU ended up losing the game 2-1 against Texas.
On Friday SDSU lost against the University of Missouri in a game that lasted only 5 innings. The Aztecs scored the first two runs of the game, which would be the only runs for SDSU. The Tigers struck back in the bottom of the inning scoring four runs. They scored five more in the third and two in the fourth before a run-rule victory was called. The Aztecs lost 11-2 against Missouri.
On Saturday afternoon SDSU had its fourth game of the series against Northwestern University. Both SDSU and Northwestern scored in the third inning. The Wildcats were able to score three more with an RBI single and a two-run double in the fourth inning. In the sixth inning Jackson had her sixth homerun of the season, and second of the weekend. Even so, the Aztecs softball couldn't make a comeback and lost to Northwestern 4-2.
SDSU softball was able to end the weekend with a 6-0 win against Oklahoma State University on Sunday. In the first inning with one on base, Jackson hit her third homerun of the series, and her seventh of the season. Sophomore pitcher Danielle O'Toole threw a complete game with a three-hit shutout. In the fifth inning SDSU scored three runs on two hits and an error, and made its final run of the series an inning later.
The Aztecs ended this weekend 10-5 overall. They begin play for the San Diego Classic at 3:30 p.m. today at the SDSU Softball Stadium.