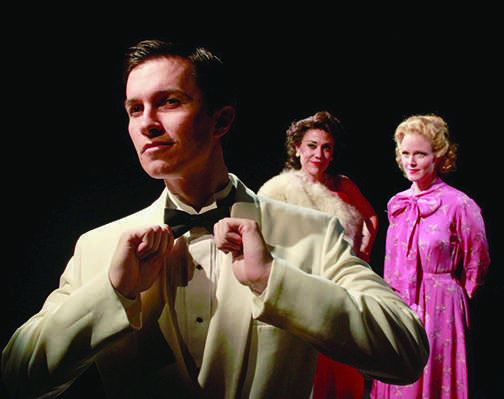 Actor Cody Walker has turned to the dark side. After playing likable characters in "A Little Night Music" and "Little by Little," the triple-threat performer proves he can portray a sleazy antihero in a new interpretation of the Richard Rodgers and Lorenz Hart musical "Pal Joey," produced by the San Diego State School of Theatre, Television & Film.
Taking place in the South Side of Chicago during the late 1930s, Joey Evans (Walker) works at Mike's South Side Night Club, owned by the demanding Mike Spears (Alex Ameen). Joey is a womanizer who fools around with chorus girls at the club, and doesn't seem to have any interest in committing to a serious relationship. The bachelor gets in way over his head when he begins to have an affair with an older married socialite, Vera Simpson (Roxane Carrasco).
Director Paula Kalustian's interpretation of "Pal Joey" combines old school musical entertainment with timeless edginess.
Kalustian draws the audience in with Ryan Grossheim's glitzy scenery and an 11-piece orchestra lead by conductor Robert Meffe. These elements make the audience feel as if they have traveled back in time to a "golden age."
Rodgers' music and Hart's lyrics feature classic songs such as "I Could Write a Book" and "Bewitched, Bothered and Bewildered." The musical numbers range from romantic to deliciously pessimistic.
The book by John O'Hara is what makes the show relevant and even intentionally shocking. To this day, Joey remains an unconventional protagonist because he consistently makes poor choices which are clearly immoral.
Walker shows different sides to Joey by depicting him as cocky and hotheaded in dramatic scenes. He wins viewers over whenever he sings and dances to Jill Gorrie's choreography.
During standout moments, in tunes such as "Happy Hunting Horn" and "Den of Iniquity," it's easy to forget that at his core, the character is a scoundrel.
Carrasco displays plenty of cleverness and sophistication as Simpson. Since she makes such clear choices, including her seductive rendition of "Bewitched, Bothered and Bewildered" it becomes clear why she would fall for Joey.
Kimberly Doreen Burns is charming as the gullible, but kindhearted shop-girl who takes a liking to Joey, Linda English. Her lighter encounters with him, including an extended dance sequence entitled "Joey's Dream," are enchanting.
Sasha Weiss hilariously steals scenes as Gladys Bumps, a chorus girl whose hatred for Joey grows throughout the evening. Her simultaneously beautiful and over-the-top version of the Act II opening, "Flower Garden Of My Heart" is a crack-up.
"Pal Joey" might be an enjoyably black tale, but it is also a bittersweet final production involving the class of 2014 Candidates for the Master of Fine Arts in musical theatre. Hopefully, all the performers in the program will continue to shine for years to come.
Update: This article has been edited to mention that Linda English is a shopgirl
Also read: Dakota Ringer shows promise as performer
Photos courtesy of Chad Shelton