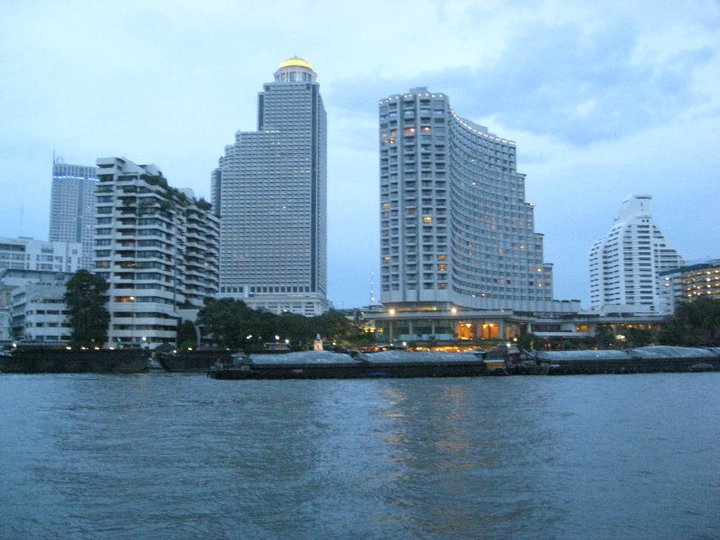 Holla! City of Squala! If you didn't get that Hangover 2 reference, this blog post is about Bangkok, as well as other places in Thailand that my family and I visited. This itinerary will lead you through the 3 interesting places we went to before ending up in Bangkok, just like the wolf pack did.
If there's one thing you should know about me, it's that I love beaches. So it's no wonder that Hua Hin was my favorite destination in Thailand. The entire town consists of beach resorts, a perfect little paradise if you love laid-back, hotel lounging. We got to stay at the Hilton Hotel, in a small suite with an amazing view of the pool and the coast. If you wish to take a break from the glamorous resort-style living, you can take a walk around the quaint streets of the town. There's cute little shops, market places and restaurants along the coast with oceanside views. Hua Hin was a nice getaway, but my family and I also wanted to see the more exotic side of Thailand.
So we took a trip to Monkey Mountain. Yes, you heard me correctly. The mountain's actual name is Khao Takiab, but is nicknamed Monkey Mountain because of the thousands of monkeys that roam freely. It was crazy being surrounding by monkeys that are so used to being around humans. You can even feed them! But watch out, they are still wild animals so they will bite you. They also tend to be very good pickpockets so hold your belongings closely. Another cool thing about Monkey Mountain, besides the monkeys, is the temple at the top of some hundred steps. If you can manage the lactic acid that will burn in your legs, the view from the temple is spectacular.
On the way to Bangkok, we stopped by the Damnoen Saduak Floating Market. Here, we took a boat tour of the canals, passing by homes all floating on the water. Since there are no roads, everyone gets around by boats. It was a fascinating, cultural experience seeing how these people live deep in the countryside of Thailand. Damnoen Saduak is a popular tourist attraction because of the huge floating marketplace in the heart of the community. People sell food and merchandise right from their boats and vending stands in the water. A lot of the stands sell souvenirs, and they try to pull in the tourists that come by. Literally, they have poles to hook onto your boat as you pass by and drag you to them. Although that got pretty irritating, the experience was very relaxing and very interesting.
Finally, we arrived in Bangkok, which is a huge city filled with temples, marketplaces, homes, hotels and a huge river that goes through the whole city. Since we visited during the time of the riots, we didn't go out much. When we did walk through the streets and marketplaces, it was jam packed with people. However, we managed to get around in a more peaceful manner by taking boat rides from hotel to hotel. We also spent some time visiting temples, such as Wat Pho, home of the Reclining Buddha. Bangkok has hundreds of temples, making it a very spiritual place.
I really enjoyed my time spent in Thailand. It's a beautiful country, with it's beautiful coast, green country-side, and large, urban cities. It's very easy to get around, by taxi or tuk tuk, and with American money, it's very very cheap. I highly recommend visiting Thailand if you ever get the chance to. If you're unsure, let the cute baby monkeys convince you otherwise.