A Legacy of Leadership: 1980s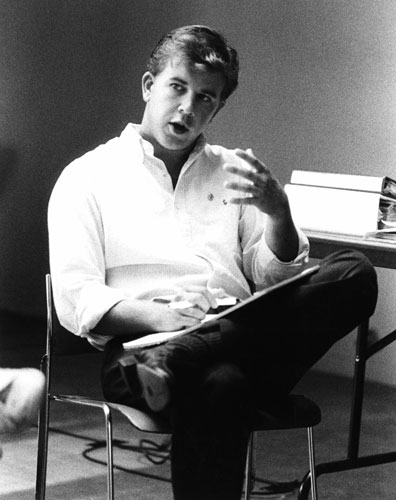 By the 1980s, the tradition of expanding campus services through student-approved fees was well established at San Diego State. That was how Associated Students had been able to expand its role at the growing university in the late 1950s and how the Aztec Center was built in the 1960s.
However, a proposal to create a new basketball arena, recreation center and concert venue, known as the Student Activity Center, had been rejected by voters in 1980, 1982 and 1986. In 1988, A.S. was under the leadership of President Larry Emond and he was determined to make the Student Activity Center a reality. In an A.S. website about the organization's history, Emond described the year-long process to get the fee approved by voters.
"I met every week that summer after I was elected with SDSU President Tom Day, Athletics Director Fred Miller, and Associate Athletic Director Jim Herrick planning out the campaign," Emond said on the website. "We got the YES vote March 3, 1988. I will never forget that date."
In a special interview with KPBS, Emond explained that in order to get the fee approved, he had to tailor it to better meet the needs of students. To do so, he shifted the proposal to focus to a larger extent on building a student recreation center. That strategy worked, and of the 5,807 students who voted on the proposal, an overwhelming 65 percent voted in favor. The project is today the Aztec Recreation Center and Viejas Arena, where the nationally-recognized SDSU basketball team plays and where international superstars regularly headline.
The new arena also had a huge impact on athletics. Miller was reportedly so excited about the approved fee, he declared the next day one of his "stogie days" and had a celebratory cigar during an interview with a reporter from The Daily Aztec. Emond's leadership and hard work leading up to the referendum had clearly paid off, and Miller was shocked by the high margin by which the fee had been approved.
Emond, who graduated with a degree in International Congress, is the chief marketing office of The Gallup Organization. Looking back at his time as A.S. president as he neared the end of his term, Emond talked with The Daily Aztec about his accomplishment, particularly the Student Activity Center fee.
"I feel lucky to have had the opportunity to be president," Emond told The Daily Aztec.
Photo courtesy of SDSU Library Archives