Jackson eyes softball after college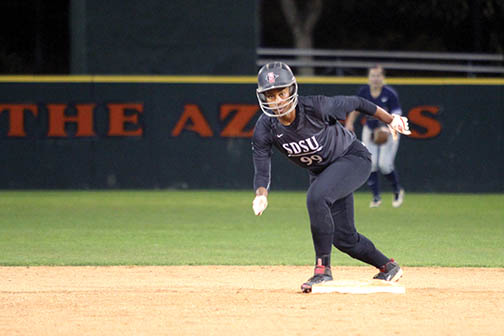 Patrice Jackson could have easily stayed closer to home for college. The redshirt senior outfielder from Kansas City, Mo. could be hitting .365 with nine home runs through 22 games in a University of Louisville Cardinals uniform right now; or perhaps she could be a Shocker at Wichita State University, where her brother attends. But when San Diego State offered her a scholarship after taking notice of her at a camp in Los Angeles during her junior year of high school, Jackson decided to become an Aztec.
[quote]"My biggest dream was to play in California," Jackson said.[/quote]
There is no question that dream is now a reality. Since Jackson arrived at SDSU in 2010, she has played in 167 games in an Aztec uniform, starting in 157 of them. She's batted over .300 in two consecutive seasons (.366 last season), and entered this season ranking second all-time in home runs in program history. The reigning Mountain West Conference Player of the Year's evolution as a player is undoubtedly on display yet again this season-Jackson is leading the team in a plethora of statistical categories, including runs scored, home runs, RBIs, total bases, slugging percentage, walks and on-base percentage.
When asked about other interests outside of the game she loves, Jackson smiled before giving her response.
[quote]"Softball is life right now," Jackson said.    [/quote]
Jackson is in her fifth year at SDSU and her fourth and final season on the diamond (she exercised her redshirt year during the 2011 season after suffering a broken leg). Having earned her bachelor's degree in economics last spring, Jackson returned to the lineup this season while working on a master's degree in liberal arts and sciences. Evident that her work in the classroom has certainly paid off, Jackson also recognizes that softball has also been an important part of her college experience.
"It's been great. You get so many opportunities," Jackson said. "You go through so many life changes at the same time. And you just learn, on and off the field."
She will be going through another one of those "life changes" after she walks off the diamond for the last time in her college career this spring. Jackson intends to complete her master's program no later than next fall, but notes the future is still a bit uncharted.
"There's many options," Jackson said after a bit of pause.
But after proceeding to list some of them, it didn't take too long to figure out which one she really wanted to pursue.
[quote]"What I really want to do is play overseas, " Jackson said.[/quote]
Upon completing this season, Jackson plans to actively pursue a softball career in Europe, as she feels there is a market for her skills there. Knowing that the road ahead will be challenging, she plans to prepare by training here in San Diego through next spring.
If her college years at SDSU have been any indication of the type of student, athlete and person Jackson is, there is plenty of reason to believe that whatever comes her way in the future she'll hit out of the park.
Photo by Kelly Smiley, Staff Photographer