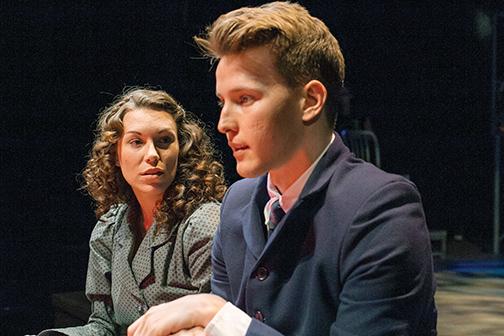 Rock 'n' roll in the 1800s Germany? Sounds like a campy idea.
Despite that fact, the musical "Spring Awakening" was a Broadway phenomenon with edgy music and lyrics from singer-songwriter Duncan Sheik and writer and lyricist Steven Sater. San Diego State alumnus and Cygnet Theatre Artistic Director Sean Murray is responsible for a new version in Old Town that captures the raw energetic spirit of the Tony Award-winning show.
Melchior Gabor (Dave Thomas Brown) is an intelligent student who wins respect from his peers for his rebellious and sometimes controversial views on the world. He starts to develop feelings for Wendla Bergmann (Taylor Aldrich), a shy and innocent student from a women's school. As their relationship develops, the two of them, along with their friends, deal with relatable issues regarding sexuality, abuse and unexpected tragedy.
An aspect of "Spring Awakening" that immediately stands out is the strength of the ensemble. All of them give endlessly lively performances including the hilarious Jacob Caltrider and SDSU alumni Matt Thompson and Debra Wanger.
Brown has a commanding presence with his impressive vocal range, impeccable dramatic chops and intense dance moves. He has the ability to depict Melchior as a confident cool kid and yet still be a fragile soul.
Aldrich has the likeability factor that is required for the role of Wendla. She has a powerful voice in musical numbers such as "Mama Who Bore Me" and "Whispering." Her chemistry with Brown is believable from their first encounter.
Also worth mentioning is Charles Evans, Jr. as Melchior's humorously neurotic and deeply-troubled best friend, Moritz Stiefel. When he sings, Moritz can be both exhilarating and harrowing during songs such as "And Then There Were None" and "Don't Do Sadness."
With such a charismatic cast, it can be easy to take the other elements of theater for granted. Murray's stripped-down direction arguably enhances the emotional impact of the piece. While watching the students trying to make sense of their lives, viewers can't help but have an array of feelings from anger to joy, even if they are familiar with the popular hit.
The only unintentionally awkward moment comes from the handling of the sex scene that ends Act 1 and opens Act 2. It feels somewhat sanitized compared to the graphic interpretation from the original production. While it makes sense to make the moment less explicit so as to not offend patrons, it feels oddly inauthentic compared to the rest of Murray's interpretation.
"Spring Awakening" is a sensory experience with jaw-dropping choreography from Michael Mizerany, thoughtful musical direction from SDSU alumnus Terry O'Donnell and remarkably detailed costumes from Shirley Pierson. The overwhelmingly positive reaction on opening night suggests that the Cygnet Theatre has yet another winner.
Also read: 'Travesties' baffles and delights
Photos courtesy of Daren Scott