Kyoto Prize Symposium comes to SDSU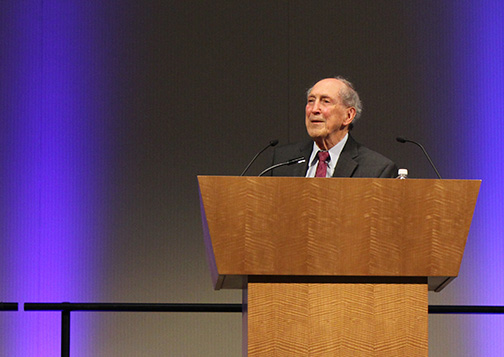 San Diego's 13th annual Kyoto Prize Symposium was held on March 18 at the Conrad Prebys Aztec Student Union to honor Robert Heath Dennard who invented Dynamic Random Access Memory and proposed scaling theory guidelines.
DRAM operates the memory in digital equipment, storing data and programs. It's found in laptops, cell phones, digital cameras, game systems and other electronic devices. The scaling theory allowed Dennard to miniaturize transistors that allows for devices to be smaller, denser, faster and less expensive.
The event is part of a three-day celebration hosted by San Diego State, along with University of California, San Diego, University of San Diego and Point Loma Nazarene University.
The Kyoto Prize is an international award that honors significant contributions to the scientific, cultural and spiritual betterment of humanity. It was created in 1984 by the nonprofit Inamori Foundation and is the highest private award for global achievement from Japan.
Three recipients are awarded the Kyoto Prize each year in the fields of advanced technology, basic sciences and arts and philosophy. Dennard is the Kyoto Prize laureate in advanced technology.
At the symposium, SDSU's Vice President for Research and Dean of Graduate and Research Affairs Stephen Welter introduced a pivotal moment in Dennard's life when he was inspired to create DRAM.
"What I'm hoping for is there's someone else in this room who, like he was being inspired, will also be inspired," Welter said. "In essence what is happening is he's paying forward the inspiration to you that he received from somebody else."
Welter then introduced Dennard, who presented a speech titled "Reflections on Creativity in My Microelectronics Career" in three parts.
He began with his background, growing up on a farm during the Great Depression and led into his education at Southern Methodist University and Carnegie Institute of Technology. His professional career began at International Business Machines, where he created DRAM.
While introducing his invention Dennard jokingly said, "Sometimes I think the 'D' stands for Dennard, but I'm very modest."
Dennard recalled a seminar he attended prior to his invention that taught him to approach his problem differently.
"What impressed me was it's fundamentally better about their approach was that they had very simple memory cell," Dennard said. "I was inspired to find something that simple for the technology we were developing."
Dennard now joins 93 other individuals who have received the Kyoto Prize from the Inamori Foundation. Those who are awarded receive academic honors, a commemorative gold medal and $500,000.
The Kyoto Prize is awarded on Nov. 10 every year in Kyoto, Japan.
President of the Inamori Foundation, global entrepreneur and humanitarian, Kazuo Inamori, said the award is intended to honor those who have allowed for research development.
"I hope to honor people who have made extraordinary contributions to science, civilization and spirituality and thereby to motivate them and others like them to reach still greater heights," Inamori said.
Photo By Jordan Owen, Senior Staff Photographer