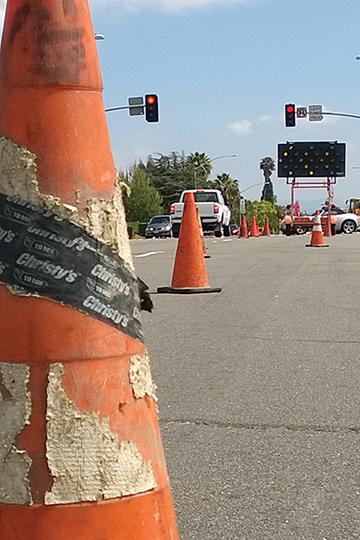 Multiple construction projects focused on Montzuma Road have created backup for San Diego State commuters this semester. With more than 85 percent of students commuting to SDSU, Montezuma Road is one of the major routes to get to campus from Interstate 8.
A reconstruction and resurfacing project of Montezuma by KTA Construction Company is running from 7:30 a.m. until 4:30 p.m. on weekdays and will last through October of 2014, City of San Diego spokeswoman Monica Munoz said.
"During construction Montezuma Road is not shut down entirely," Munoz said. "There is at least one lane in each direction available for travel."
SDSU faculty, staff, visitors, and others who work and live in the college area may also be dependent on Montezuma Road.
"Sometimes they actually stop traffic and you have to wait," SDSU Student Life Adviser Melissa Gonzalez said. "It even affects your tires with all of the bumps you have to drive over."
From lane closures causing a backup to alternate routes to campus becoming congested, some student commuters noticed differences on their way to school.
"I've seen an increase (in traffic) on Montezuma, especially when the workers were actually out working," English freshman Juliana Clark said. "There are definitely people avoiding going down Montezuma by turning on College to get to the 8 freeway."
College Avenue is an alternate route for students who depend on the I-8 to drive to school. The Green Line trolley line and multiple bus routes also have stops at the SDSU Transit Center near the Adams Humanities building.
"Knowing that SDSU has a lot of commuters, I think the immediate impact on construction may cause delays and frustration among people," psychology sophomore Sam Padilla said.  "Overall this construction is a benefit in the long run by fixing the roads and clearing potholes."
In addition to KTA's construction and resurfacing of portions of Montezuma Road, multiple other projects are also in progress.
According to the College Area Community Council website, a sewer and water system project on Montezuma Road began Oct. 7, 2013 and will continue through June 2014 during the hours of 9 p.m. to 5 a.m. The construction is located between where Montezuma meets East Campus and Reservoir drives.
The construction is part of San Diego City's Sewer and Water Group 3016 Project to upgrade the sewer and water systems in the community, according to the CACC.
The sewer project construction operates during the night to avoid further congesting the SDSU commute.
"People just need to be aware that they need to take a little extra time driving to school," Clark said.
A link to the map of all current construction projects on Montezuma Road is available on the CACC website in the October 2013 meeting report.
 Photo by Jimmy Thibault, staff photographer