A.S. elections see low voter participation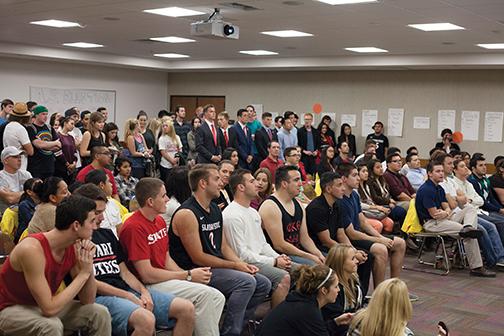 The 2014 A.S. elections closed with a 9.9 percent voter turnout. Many candidates in this year's elections ran unopposed. 
The voter turnout in the 2014 Associated Students election was just below 10 percent of the student population, coming in 8 percent below last year's turnout.  Of the 22 positions up for election, 10 positions had only one candidate running.
All of the executive vice president candidates ran unopposed, and only two presidential candidates competed in the election.
A.S. Elections Coordinator and health science sophomore Jennifer Reyes said when fewer candidates run for the president and vice president positions, the voting rate tends to be around 7 percent.
The position of student-at-large campus representative received the most cumulative votes, with 2,789 total. The elections closed with 2,635 total votes for the presidential candidates.
Pre-med senior Dana Datuin said one reason for the poor turnout could be from the timing of the elections, which took place during midterms.
"I'm just too busy with school, and I haven't been following it," Datuin said.
Other students said they were not fully aware of the power of their vote, or the specific role of A.S. on campus.
"I don't know that my vote will make a difference, and I don't know what they can do for us," interdisciplinary junior Sade Cooper said.  "I have voted once, when I turned 18. It was for Obama's reelection campaign.  I'm not really passionate about politics, but I do think it's good to vote."
Some students said they just weren't aware of the election.
"I didn't know elections were happening," Onu Cambo, an international student pursuing his MBA said.  "I'm not sure if I could vote as an international student, but if I could I would; representatives of the university should be the right person."
Pre-nursing sophomore Kirstin Visperas said she feels the campaigning process was not rigorous enough to inform students about the candidate's platforms.
"All I've heard in this election is to vote for this person or vote for that person, but I don't know anything about any of them," a pre-nursing sophomore Kirstin Visperas said.  "I do vote in local, state, and national elections though. It's easier to find out about the people running in those elections."
The problem of limited publicity is something communications sophomore Luke Dzierzanowski, who was running College of Professional Studies and Fine Arts representative, took advantage of. Dzierzanowski, created a campaign video to get people to know his name, which ultimately received national attention.
Dzieranowski was running for one of three seats for PSFA representative against four other students.  Dzieranowski received the least amount of votes for the PSFA representatives, with 83 total.
Photo by Wesley Beights, staff photographer