Schauffele honored at San Diego Classic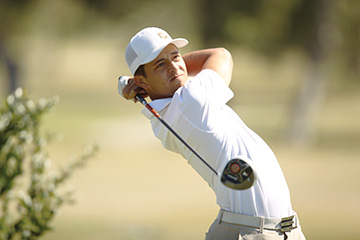 The San Diego State men's golf team was unable to defend its 2013 title at the Lamkin Grips San Diego Classic on Tuesday, finishing in second place among the field of 13 at the San Diego Country Club in Chula Vista. SDSU finished day one of the tournament at an impressive mark of six under par, and led the University of Southern California by four strokes through 36 holes before USC fired an eight-under final round to secure the team title. The Aztecs, ranked No. 38 by Golfstat, were coming off of a win at the Jones Sports Invitational in Somis, where they edged No. 22 USC by one stroke.
Representing SDSU in the winner's circle was junior team captain Xander Schauffele, whose 11-under cumulative score earned him medalist honors for the first time this season. Golfstat's 99th ranked Schauffele highlighted his performance with two five-under 67s in the first and final rounds, which tied the lowest 18-hole score of the tournament.
"I had a rough start to my round. I was a little tentative," junior Xander Schauffele said. "In the middle of the 36-hole day I found a stretch of nine to 12 holes where I started hitting it really well, and actually capitalized on my good ball-striking."
Schauffele's lone bogey in the first round came on the par-3 sixth hole, which played as one of the tougher holes with an average score of 1.08 strokes over par. His next bogey didn't come until the ninth hole of his second round. In that 20-hole span, Schauffele dropped seven birdies including three in a row on holes 14, 15 and 16. An early bogey on the third hole was the only blemish on his final round scorecard, but was quickly forgotten after he answered with three straight birdies on four, five and six.
Although he was red hot, Schauffele did not coast through the back nine by any means. Nursing a two-shot lead over his playing partner, freshman Rico Hoey of USC, Schauffele stepped onto the drivable par-4 17th with a tough strategic decision: to lay up or go for the green. Hoey's drive landed short and rolled onto the front portion of the green, about 50 feet from the back pin placement.
"I was a little nervous, I had some adrenaline going obviously. I knew I had a two-shot lead," Schauffele said. "I just ripped the drive. Right when I hit it I knew it was perfect."
Schauffele's drive carried roughly 300 yards on the fly, landed perfectly in the middle of the green, and rolled about 10 feet past the hole. The eagle but lipped out, but Schauffele matched Hoey's birdie and maintained his two-stroke lead going into the final hole. A green in regulation and a two-putt was all the 2013 All-Mountain West honoree needed to secure the individual victory.
The Aztecs will have a quick turnaround as they prepare for the National Invitational Tournament in Tucson, Az. starting on Friday.
Photo courtesy of Stan Liu