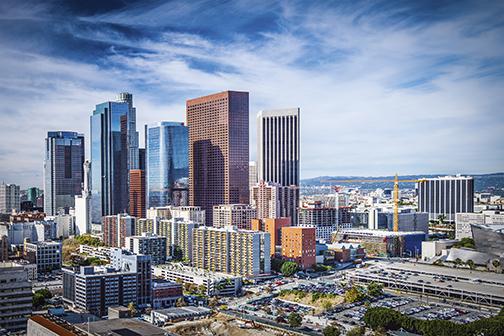 This spring break, it's time to get away. Everyone needs a break now and then, so why not take that break at a new locale with new people? Problem is, we're all broke and unfortunately can't afford to do anything fun with our lives. But have no fear, LA is near!
Being born and raised just outside of LA, I have the inside scoop on what to do, and how to do it on a budget. LA isn't always cheap, but the sights alone are an event in themselves and hey, it's a lot cheaper than Cabo would have been.
First things first: transportation. Paying for gas is rough but driving through LA traffic is worse. As an alternative to transporting yourself and your loved ones through the chaotic hell-hole of pandemonium that is LA traffic, I suggest purchasing a round-trip ticket on Amtrak's Pacific Surfliner. The scenic train route takes you right along the coast for most of your journey. There is even Internet access for the overachievers who actually try to get homework done during spring break and Pinterest/Netflix access for the rest of us. However, the best part of taking the train is the refreshments. No, not the overpriced sodas and disgusting cheeseburgers (microwaveable, really?), it's the blatant blind eye that conductors and train personnel turn when it comes to passengers and their bring-your-own refreshments. It's perfectly acceptable to bring wine, beer or your choice of liquor on the train and get a little toasty while you're heading to your destination.
Once there, it's time to get down to business. The first stop is an obvious destination: the Hollywood Walk of Fame. Yes, you will look like a tourist. No, no one will judge you. Everyone does it; it's awesome the first time around and you can match up your hand with all your favorite celebrities. Later you will resent you're LA-virgin friends when they drag you to it every time they visit. But it's a classic, it's historical. You just have to do it.
Next, you have a range of options. You could check out the Santa Monica Pier and watch some surfers, ride the Ferris wheel and possibly learn to be a trapeze artist. You could enviously window shop at the glorious yet ridiculous clothes on Rodeo Drive. You could even get astronomical and check out the views from the Griffith Observatory (which is free to the public).
For lunch, may I suggest Pink's Hot Dogs on Melrose and LaBrea avenues? Please see earlier "historic" argument for further convincing.
Overall, your time in LA is as limitless as your newly-found extra cash you saved by minimizing your fun but maximizing your experience. This spring break, there is no reason to spend big bucks when we have so many options just a few hours away.
Photo courtesy of Thinkstock