Water polo finish up home play with a close victory against LMU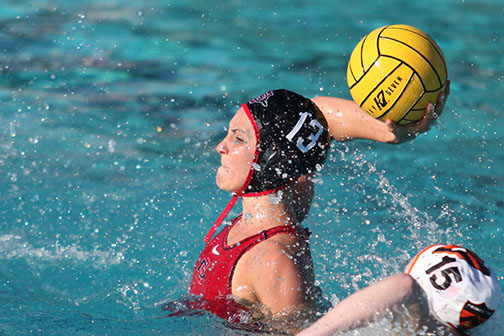 The San Diego State water polo team won 6-5 in a nail-biter in their final home game last Saturday thanks to a game-winning goal by junior driver Anique Hermannn with .22 seconds against No. 11 Loyola Marymount.
Going in to the final period, the score was knotted at 4-3 with SDSU leading. The two teams traded goals for the final five minutes and with things tied at 5-5, the Aztecs scored their final goal in the waning seconds when they most needed it.
The win moves them to 19-10 overall this season and 3-0 in the Golden Coast Conference, which is good enough for first place.
The loss for LMU gives the team its first conference loss on the season, 4-1, and a 17-10 overall record. The star of the game, sophomore goal keeper Rachel Mitchell, notched 11 saves with key ones coming in the closing minutes of the tightly played game.
The Aztecs never trailed in the game as they jumped out to an early 1-0 lead in the first period. The second saw two goals by LMU to just one SDSU goal, giving a 3-3 tie at halftime.
Mitchell's defense stepped up in the second half to hold LMU to just two goals in the final two periods. The Aztecs were led on offense by freshman defender Ioli Benekou, who scored three goals alongside Hermann, with the final goal coming in the closing seconds of the game. Sophomore driver Danielle Johnson led LMU with three goals.
The final three games of conference play will send SDSU to Santa Clara on April 11, Pacific on April 12 and Azusa on April 16 before wrapping up regular season play at University of California, San Diego in the Harper Cup on April 18.
The remaining weeks have the Aztecs gearing up for the Gold Coast Championship, which takes place in Los Angeles on April 24-26. A home victory would give SDSU momentum to finish up the season as sights are set their sights on post-season success in the coming weeks.
The Aztecs are coming together at the right time. They have now won three in a row and six of their last seven games as they head on the road for the remainder of the season.
Photo by Monica Linzmeier, Photo Editor