Aztec softball sweeps Wolf Pack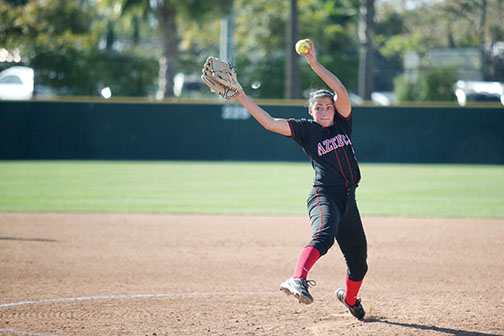 The San Diego State campus repopulated slowly throughout the weekend, with students trickling from their various spring break endeavors. One spot on campus, however, saw steady action all weekend long: the SDSU Softball Stadium.
The Aztec softball team played host to the University of Nevada, Reno Wolf Pack this past weekend for a three-game series that, overall, was dominated by the Aztec pitching staff. During the three-game span, sophomore pitcher Danielle O'Toole and freshman pitcher Erica Romero combined to give up a mere two total runs to a Wolf Pack offense that came into the series leading the Mountain West Conference in a number of offensive categories, including batting average, runs and total bases.
After starting things off with a 4-0 shutout victory on Friday night, the Aztecs run-ruled the Wolf Pack on Saturday 10-1 in a game that lasted only five innings. SDSU proceeded to complete the sweep Sunday afternoon, winning by a score of 3-1. With Sunday's win, the Aztecs improved to 28-9 on the season and 5-1 in MWC play.
Game of the Weekend
After scoring four runs on only five hits on Friday, the Aztecs definitely came out ready to swing the bat for Saturday's contest. En route to a convincing 10-1 victory, the Aztecs had eight different players record 12 total hits. Redshirt junior Hayley Miles led the way going 2 for 3 with two runs, two hits and two RBIs. She was one of six different Aztec players to record an RBI in the game.
Given plenty of run support, Romero did her part from the pitching circle. The freshman threw impressively, striking out seven batters while walking only one. She held the Wolf Pack to one run on five hits for the entire afternoon. With the win, Romero picked up her fifth career collegiate victory.
Player of the Weekend
O'Toole, who has been the foundation for this team's success all season, continued her dominance yet again during the weekend. The sophomore from Upland tossed complete games in both of her appearances, which occurred on the front and back ends of the series. O'Toole allowed only two walks while striking out 13 batters, giving up a lone run in 14 innings of work on the weekend. With the win on Sunday, O'Toole hit the 20-win mark on the season, improving her overall record to 20-4.
SDSU is back in action this weekend as they open up a three-game series on the road at California State University Fresno on Friday.
Photo by Monica Linzmeier, photo editor