Water polo clinches GCC title share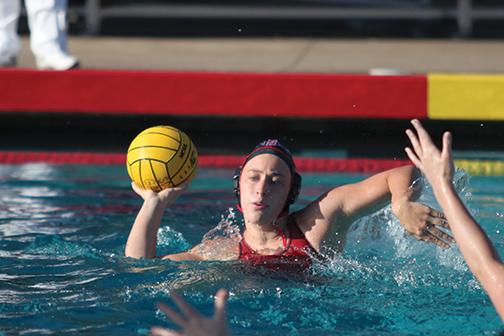 The Aztecs notched two wins on Friday and Saturday to extend their undefeated record in the Golden Coast Conference to 5-0 with two 7-6 wins and granted themselves a share of the conference title. With the win on Friday against No. 19 ranked Santa Clara University Broncos, they extended their school record of consecutive 20-win seasons to nine. Saturday's win against the Fresno Pacific Tigers gave the Aztecs a season best five game win streak.
San Diego State fell behind early in the contest Friday and found themselves trailing by scores of 1-0 and 2-1 before jumping ahead by stringing together three straight goals, giving them a 4-2 lead at halftime. Santa Clara tied it up again with two straight goals beforeSDSU answered with two of their own.
The Aztecs closed out the game 7-6 after a late charge by Santa Clara fell short. The Aztecs ended the Broncos three-game win streak (13-12) and extended their own win streak to four, tied for their season best.
With a win on Saturday, SDSU would capture a share of the Golden Coast Conference regular season title. The team traveled to Fresno Pacific, which is 0-6 on the season and had yet to win a conference game, for an early afternoon match. The Tigers jumped out to an early 1-0 lead before the teams traded goals for the remainder of the half with the Aztecs taking a 4-3 lead in to halftime, led by junior driver Anique Hermann's two goals. The Tigers quickly tied it up at 4-4, which the Aztecs followed up with their own goals. SDSU entered the fourth period with a 6-5 lead and followed it up with sophomore utility Taylor Gums' goal to go up 7-5.
Fresno Pacific managed one more goal at the 3:43 mark but was thwarted in the final minutes by SDSU's defense. The win gave the Aztecs their 21st of the season and extended their win streak to a season best five.
In the inaugural season of the Golden Coast Conference, the Aztecs captured at least a share of the regular season title during the weekend. The Aztecs take their five-game win streak to Azusa Pacific, 1-4 in conference play, on April 16 for their final conference matchup before the Golden Coast Championship which will take place on April 24 – 26 in Los Angeles.
After Azusa Pacific, SDSU will finish up the regular season on April 18 with the Harper Cup against cross-town rival University of California, San Diego, which has a 16-6 overall record.
Photo by Monica Linzmeier, photo editor