Wage hike impacts SDSU's budget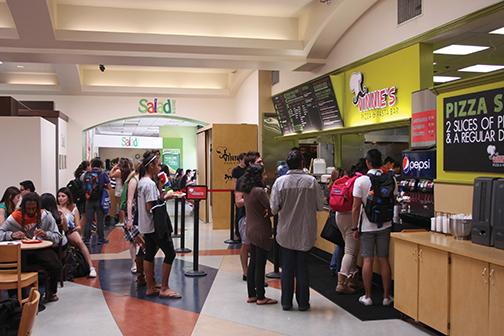 In September 2013, the California State Legislature passed a bill to raise the minimum wage from $8 to $9 this July, and then to $10 at the start of 2016.
The minimum wage increase is slated to affect the university budget as well as its auxiliaries.
"With any business, costs are going up all the time," Aztec Shops Senior Director of Management Services Martha Speck said.  "We expected it just because of what we were reading and what's been happening in other cities so we knew it would probably be on its way."
To maintain current student assistant levels, it would cost SDSU about $200,000 annually, Chief Communications Officer Greg Block said.  The budget for the 2013-14 year was $467.2 million and includes departments such as Athletics, University Relations and Developments and Federal Work Study.
For Aztec Shops, an auxiliary of SDSU that operates the bookstore and Dining Services, the raise in minimum wage will cost about an additional $600,000, which translates to a roughly 5.2 percent increase to the budget, according to Speck.
The past fiscal year's budget at Aztec Shops was around $61.2 million with 18 percent of that allotted to wages.  It employs 591 employees who will be impacted by the minimum wage, Speck said.
Associated Students Vice President of Financial Affairs Mariah Kelly said A.S. will also see a $200,000 annual increase in wages.  The fiscal year 2014-15 A.S. budget will be approximately $24 million, of which about 39 percent are wages, Kelly said.
A.S. employs 1,200 part time-staff who will be affected by the new policy.
In response to the raise, Aztec Shops has several revenue producers in hopes of offsetting this cost.  One of these are the new venues at the Conrad Prebys Aztec Student Union and other real estate purchases by Aztec Shops.
"We have University Towers, Albert's Apartments, and we recently took over some other apartment complexes on the campus area," Speck said.  "If you have more business opportunities that means increased business."
Aztec Shops also purchased the land near the end of the student union footbridge, where  KB Books, Cal Copy and Dominos Pizza sit.
"A.S. constantly works to operate as efficiently as possible in order to build these type of market increases into the budget," Kelly said.
Even though Kelly said the opening of the new student union brings on more student employees than planned, A.S. is "not expecting any negative effects to A.S. facilities, programs and services to students."
Both Speck and Kelly said there will be no changes in staffing levels in response to the wage increase.
Photo by Monica Linzmeier, photo editor