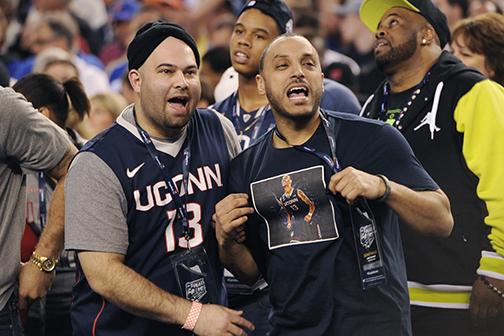 Richard Messina
Rare is the opinion column in praise of an issue or event. But San Diego State sports fans deserve kudos following a couch-fire season without a single sofa set ablaze in San Diego. Lord knows the Aztecs' men's basketball team gave us enough reason to march on Montezuma Mesa, but an amazing amount of restraint was shown despite our much-maligned social reputation. Somehow, the city remained ash-free despite a last second regular season conference championship win, a conference championship loss, and both the exhilaration and anguish of SDSU's second Sweet Sixteen appearance.
If you've followed how other universities' fans behaved during March Madness, you're already aware some behaved badly. If not, a brief trip through the latter half of the national basketball tournament is in order.
A University of Connecticut resident advisor sent a snarky email to students residing in his dorm on the morning of Connecticut's championship game against the University of Kentucky. The email's no-nonsense tone was nationally panned as the product of a "buzzkill" with too much power, and I figured his tenure as a resident advisor was coming to an abrupt end. But by the end of that night, 30 fans were arrested, city buildings were vandalized and those aforementioned couches were thoroughly doused with lighter fluid, making the resident advisor looked like the second coming of Nostradamus.
One of the more perplexing aspects to the riot is that Connecticut has a history of winning national championships. This was the men's fourth championship since 1999 and the women's team collects national championships like I collect words. The sports fans' maxim is to "act like you've been there before," and mischief is the antithesis of that.
If the debauchery in Storrs, Conn. was the only incident of unruliness during this tournament, there's not much of a story. After all, U.S. sports fans have been rioting following championships since at least 1984, when Detroit was set ablaze after the Detroit Tigers won the World Series. But fans in Tucson, Ariz. and Lexington, Ky. also acted like fools following their universities' ouster from the tournament despite both universities also having a history of March Madness success.
[quote]Somehow the "madness" in March Madness no longer stands for the euphoria felt from close games and against-all-odds underdog runs. [/quote]Instead, it's insanity more in line with the famous quote from the movie "The Dark Knight," where some just want to "watch the world burn." That line always springs to my mind when I see the YouTube clip of the college-aged man wearing a blazer jacket gleefully coaxing Tucson police to shoot him with bean bag pellets. As if being a bro isn't a sufficient enough cause for taking him down.
I wonder if the over-exuberance is a symptom of college pride extended too far. One of the first activities during SDSU Freshman Orientation is learning the fight song. But the Aztec Warrior doesn't use his spear to shatter the display window of a department store, our cheerleaders don't execute synchronized high kicks at campus police, and "fight" isn't meant to be taken literally. Therefore, occupying the streets following a sporting contest isn't what campus officials have in mind. Governors of each state represented in the basketball tournament shouldn't need its National Guard on alert because the student body doesn't know what to do with itself.
[quote]The Show, SDSU's sometimes-controversial-but-always-entertaining student cheering section, is to be praised for its appropriate response following all the bad behavior exemplified elsewhere. [/quote]It merely issued this tweet after Connecticut's basketball players closed out the tournament: "Next year's Final Four is in Indianapolis. We're coming for you Indy." Local officials in that Midwestern state can rest easy when SDSU arrives en masse next year. I'm confident our student body knows that couches are for sitting and not for burning.
Photo courtesy of MCT.