Aztecs help Relay for Life beat its fundraising goal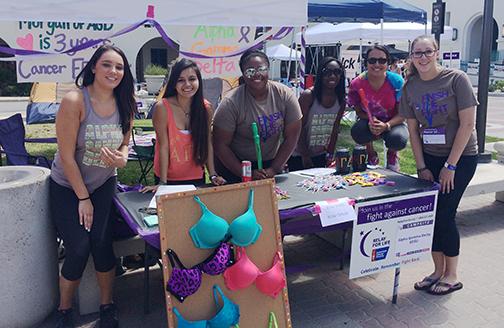 This past weekend, San Diego State students raised $27,577 for cancer research during the annual Relay for Life fundraiser.
Relay for Life is organized by the Colleges Against Cancer club and the American Cancer Society. SDSU sets a goal for the event each year and raises funds months prior.  According to this years' event organizer, political science and public administration senior Katie Foster, SDSU students had a goal of $25,000 and they had been involved with fundraising for the event since September.
"I got involved in Relay For Life after my mom was diagnosed with breast cancer in 2008," Foster said. "I relay because I want everyone to get that same phone call that I got saying that my mom had officially been cured."
Foster said the various teams involved have been hosting bake sales, partnering with local restaurants and contacting family and friends to raise funds for months leading up to the event. A few of the largest SDSU organizations involved included members from the School of Nursing, the Professional Studies and Fine Arts College Council, the Student Veteran Organization and the Alpha Gamma Delta sorority.
The overnight event, which was held in front of the Conrad Prebys Aztec Student Union, began Saturday morning and ended at 10 a.m. on Sunday.
During the event, the centennial walk was filled with booths and tables of the teams working on their individual fundraising goals and multiple tents for those who were spending the night.
Business administration freshman Kevin Zinkofsky tabled at the event with his affiliated school organization, Circle K, in hopes of raising funds for the cause.
"We are here both for our organization … and we're also here for the event," Zinkofsky said. "We want to raise money to support the cancer research for a possible cure."
The fundraisers weren't limited to just SDSU students. There were a few individual teams representing different parts of San Diego.
Four of the largest donors for this years' event were Falck San Diego, a silver donor, and the bronze sponsors: Aztec Corner, Planned Parenthood and Effin's Pub and Grill, Foster said.
Foster was the highest individual fundraiser for the event, raising $1,262.
Catherine Collins and her sister Elizabeth Collins, both from Point Loma,  tabled at the quad raising funds for the cause.
"My sister is a 10-year leukemia survivor," Catherine Collins said. "She was diagnosed when she was 2-years-old. Because of that, we relay every year. We just hit our fundraising goal of $1,000."
Photo by Elpin Keshishzadeh, staff writer