Health expo will nourish students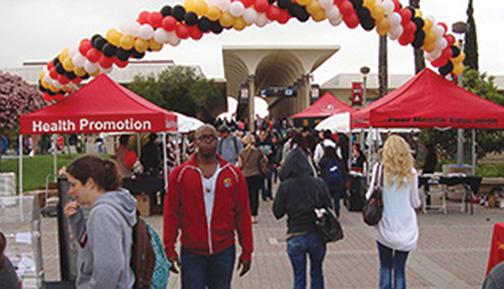 Students won't have to commute to a dietitian to learn healthy habits, as "Health Expo: The Road to Wellness" opens on the Centennial Walkway on April 17 from 10 a.m. to 2:30 p.m.
The health expo is the combined effort of San Diego State's Health Promotion Department and Aztec Recreation Center.
"The health expo doesn't just enlighten students about living a healthy life, it provides them with options to pursue healthy living," ARC public relations specialist and nutrition freshman Reyanne Mustafa said.
The event is focused on dispelling false health trends and instilling a mentality of health unto SDSU students, who, when walking onto the Centennial Walkway embark on the "Road to Wellness."
The health expo is an annual event and will feature booths from organizations such as Suja Juice, Culture Shock Dance Center and Neurogenic Yoga Instructor.  Unlike previous years, this year's event will give students a competitive edge in the career race. Companies will be accepting resumes, and students are encouraged to dress formally. Nutrition majors are far from the only ones who will benefit from the expo.
More than 15 food and drink vendors will parcel out free samples and purvey their wares. The expo will also include booth demonstrations, a blood drive and a talk on mastering one's fitness mindset by keynote speaker Kerry Tepedino. In addition to traditional health experts, alternative medicine promoters will be present to discuss chiropractic and holistic healing options. The event also offers opportunities to apply one's nutritious ambitions, such as SDSU's StepMore, a walking organization.
Nutrition nuts and those who appreciate free samples alike should step on the Road to Wellness this Thursday for both dietary education and pure deliciousness.