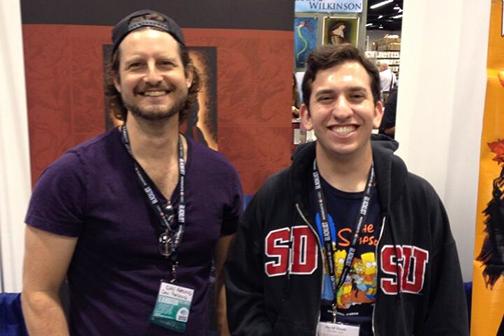 People who religiously attend Comic-Con in San Diego as I do are probably familiar with WonderCon in Anaheim. While I've known about it for years, I was not exactly sure what to expect upon entering the Anaheim Convention Center last Friday.
Both Cons have the same general purpose, which is to celebrate all kinds of pop culture with plenty of booths and panels that appeal to diehard video game fanatics and casual movie and television viewers alike. The two also require a high tolerance for patience at first, because the lines just to set foot into the venues have become ridiculously long.
However, upon crossing the threshold it was much easier to navigate WonderCon than Comic-Con. There were still a lot of people left and right, but exploring the exhibit hall did not take quite as much time as exploring the one at the San Diego Convention Center.
There were plenty of interesting sights in the exhibit hall. The strangest to me had to be seeing Tommy Wiseau, the actor/director/producer responsible for the critically panned movie "The Room" in the flesh. I couldn't stop laughing for several minutes after hearing him talk.
Some of my favorite moments in the Hall included getting a chance to speak to science fiction/fantasy artist Dan Parsons and "The Fifth Beatle" writer Vivek J. Tiwary. Both were easily approachable and had many interesting stories to share about the projects they have worked on in the past.
As far as panels go, the best one I saw involved Will Wheaton's online series about gaming, "Tabletop." Wheaton and co-creator Felicia Day spent a lot of time joking around with each other and talking about all kinds of games such as "Cards Against Humanity" and the strategy adventure "Tsuro." Their back and forth banter along with an extremely enthusiastic crowd made Friday evening end on a high note.
One big difference between the two events, is that Comic-Con has more of a party vibe than WonderCon. In Anaheim, the majority of events happen inside the convention center, as opposed to all around town. This is in contrast to Comic-Con, where different areas of Downtown San Diego are transformed for the summer phenomenon. Perhaps this will change if WonderCon continues to grow in popularity.
It should be mentioned that tickets are much easier to get for WonderCon, so there is no excuse for those interested to miss out. That is, unless the zombies from "The Walking Dead" or chimpanzees from "Dawn of the Planet of the Apes" decide to invade Anaheim in 2015. In that case, we're doomed!
Also read: Comic-Con remains an essential event for fanboys
David Dixon, Entertainment Editor