Hollywood Happenings: Featuring Kyle Setter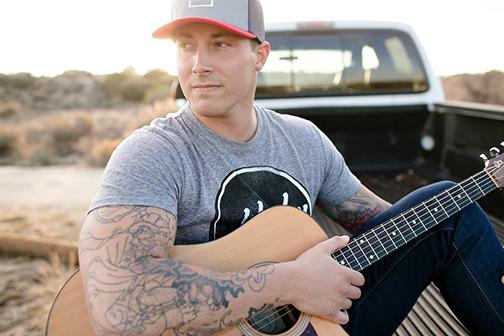 Celebrity of the Week (Bekah Haynes):
Kyle Setter, a local country star on the rise, has been making several appearances lately that have sparked the start of a great career. Originally the lead singer of Christian rock band titled "Destroy the Runner," Setter has completely changed the direction of the path he chose to take with his music career. While Destroy the Runner proved to have great success in the music industry with music video circulating on MTV as well as several national tours, the singer-songwriter knew he was being called to take a different approach in following his passion.
Since making the switch to country music, Setter has received much recognition. He released an album on iTunes, played live acoustic sets on the KSON San Diego and Mountain Country radio stations. He also performed several shows, including one at the Pi Beta Phi sorority house at San Diego State. The artist also performed at the JW Marriott Desert Springs Resort during the weekend of the Stagecoach Country Music Festival. It is evident that the country star has a bright future ahead as his fan base and popularity do nothing but continue to grow.
Sightings (Bekah Haynes):
Kelly Clarkson and her husband Brandon Blackstock were seen together in Nashville during Easter. According to Eonline, this was the pregnant star's first appearance since December. The couple couldn't be happier and officially picked their little girl's name. Clarkson is keeping it a secret, quoted with, "I don't want someone to steal [my] baby's name."
Kim Kardashian was seen with Kendall Jenner collecting several of her Vogue magazines at a newsstand in Studio City. The popular magazine shows a glimpse of Kardashian and West's wedding. According to Eonline, Kim and Kanye's Vogue cover is set to sell 300,000 to 400,000 copies.
Romance (Brooke Schlyer):
Actor Ashton Kutcher and actress Mila Kunis took a family trip down to Louisiana to visit Kutcher's sister, brother-in-law and niece. The engaged couple was spotted going for a walk with Kutcher's sister, eating at a local pancake house and taking a tour of a local brewery, according to Eonline. Of course, Kunis didn't do any drinking since she and Kutcher are expecting their first baby together.
Rumors are spreading about Kris and Bruce Jenner's relationship. The couple split in October after 23 years of marriage, but on the day of their anniversary Kris posted a very questionable picture, according to Hollywood Life. The photo featured her dressed in formal attire with the caption, "Happy Anniversary to one of the most amazing men I know!!!!! I love you, Wow 23 years!!!! #love #weareofficiallyvintage." Maybe the couple has decided to work things out? We wish them the best.
Trivia: (Brooke Schlyer):
The who-knew-they-dated edition. This week's trivia may surprise you with different celebrities who have dated or even took the plunge and got married.
1. Michael Jackson may be known as the King of Pop and made headlines for more than his career throughout his lifetime, including when he decided to marry into the King of Rock and Roll's family to make a royal music couple with this celebrity:
A. Lisa Marie Presley B. Liv Tyler C. Francis Bean Cobain D. Elizabeth Scarlett Jagger
2. This rockstar known for his crazy antics and signature look of sticking out his tongue once confessed to dating the supreme lady of Motown, Diana Ross only, of course, after ending his relationship with Cher:
A. Russell Simmons B. Steven Tyler C. Tommy Lee D. Gene Simmons
3. This famous twin, known for starring in TV shows, movies and launching clothing lines with her equally famous sister, is engaged to the former French president's half brother, Oliver Sarkozy, who is 17 years older than her:
A. Gisele Bundchen B. Mary-Kate Olsen C. Nikki Bella D. Tia Mowry
4. Former child star Macaulay Culkin, best known for his role in the "Home Alone" series, dated this former "That '70s Show" actress for more than eight years:
A. Mila Kunis B. Laura Prepon C. Lisa Robin Kelly D. Debra Jo Rupp
5. Before Ryan Reynolds met and married one of our favorite "Gossip Girls," Blake Lively, he dated this Canadian singer … "You Oughta Know!"
A. Avril Lavigne B. Sarah McLachlan C. Celine Dion D. Alanis Morissette
Answers: 1. A 2. D 3. B 4. A 5. D
Also read: Hollywood Happenings: Starring Kim Kardashian and Kanye West
Courtesy of Kyle Setter