'Spoonful' explores addictions and demons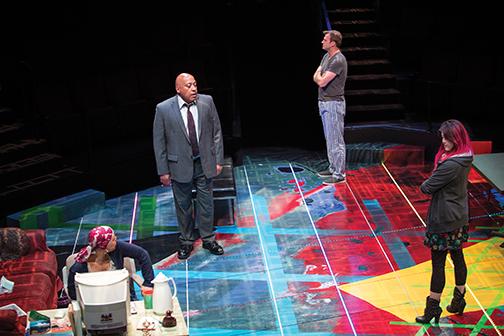 I was fortunate enough to read the Pulitzer Prize-winning script to "Water by the Spoonful," written by Quiara Alegria Hudes, before catching it at The Old Globe. It is the middle part of a trilogy revolving around a young man named Elliot Ortiz. Hudes' dialogue is so animated and exuberant that I read the play in one sitting. I was pleased to find out that The Globe's production had the same engrossing and engaging impact on me.
Set in 2009, Elliot (Ray Lucas) is a twenty-four year old Puerto Rican veteran who served with the Marines in Iraq. Discharged and walking with a wounded leg, he spends a lot of time working at a Subway restaurant, taking care of his sick mother, Ginny Ortiz, who has cancer. His day-to-day life becomes dangerously stressful as his mom's disease progresses.
During this same time, an Internet chat room for recovering drug addicts is being run by Odessa Ortiz, whose username is Haikumom (Marilyn Torres). She hopes to help those in the chat room get sober. In the beginning, it isn't clear how these stories connect, but they ultimately collide halfway through the drama.
In order to be surprised by the twist that connecting these tales, do not read the relationship chart contained in the program that details the characters' connections to each other. It gives away a secret that is not revealed until the beginning of Act 2.
The Director, Edward Torres, distinctly contrasts the styles of these different plotlines. The sequences with Elliot are mostly staged in a subtle way, while the chat room conversations occasionally feel like a futuristic world. Mikhail Fiksel's sound design, Jesse Klug's lighting design and Powell Chair in Set Design Ralph Funicello's scenic design all complement each other in showcasing the unconventional bonds between Odessa and her followers.
Fiksel's incorporation of moody jazz heightens tension, especially in confrontations between Elliot and a mysterious ghost (M. Keala Milles, Jr.). Hudes has mentioned in interviews that jazz partially influenced her piece, and the use of this music genre only adds to the richness of the interpretation.
Everyone in the racially diverse seven-person cast brings such unique personalities to their roles. The chemistry between the performers is irresistible. Not only do Lucas and Sarah Nina Hayon make appealing kinfolk, but the members of the chat room, which feature Torres, Rubio Qian, Keith Randolph Smith and Robert Eli, are all funny and compassionate.
While you should try to make some time to see "Water by the Spoonful," there will be an interpretation produced by the San Diego State School of Theatre, Television & Film as part of the 2014-15 season. I am already looking forward to seeing Hudes' brilliant prose performed on campus.
Also read: Revisiting a surreal 'problem play' 
Courtesy of Jim Cox