Classic animal friends visit SDSU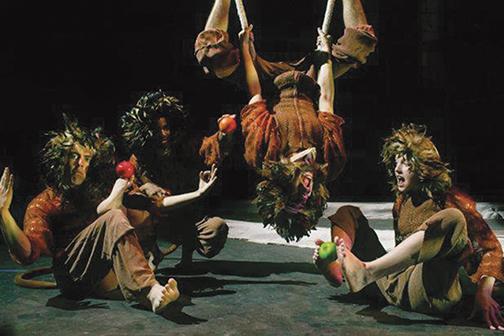 Doing an adaptation of a beloved children's book could be a risky move, but Margaret Larlham's version of "Jungle Book" was nothing short of incredible and immensely entertaining. The change in storyline makes for a compelling and action-packed show with an important message. Larlham's revision of the children's novel updates the story and takes an environmental approach.
This version of "Jungle Book" gives the audience a new perspective on how the actions of humans are impacting our environment. Although the play's plot covers some heavy topics, from the very beginning the humorous dialogue exchanges between characters kept the audience laughing. The musical numbers and the expressive interaction between the characters make this play great for all ages.
High quality vocal performance by the cast and impeccable choreography are some of the main reasons "Jungle Book" is so entrancing to watch. One of the unique aspects about the show is that the costumes are creatively designed to depict the animals of the jungle, and acrobatic stunts are performed on a silk rope by Taylor Richardson.
The stage transformed into an exotic jungle located in San Diego's Balboa Park, and is decorated with intriguing props designed by the talented MFA students in design and Technical Theatre. The story stays true to the original where Mowgli (Megan Duncan) is required to learn the "laws" of the jungle from Mother Wolf (Jilliann Giacalone), Bagheera the Panther (Chanel Lucia), Baloo the Bear (Christopher Yarrow) and the deceitful tiger Shere Kahn (Ryan Sandvick). Sandvick portrays Khan as a villainous tiger that is constantly trying to sink his teeth into Mowgli. However, he is continuously stopped by the other animals in the jungle. The hilarious dynamic between Shere Khan and the jackal hyena, Tabaqui (Kelli Plaisted) adds to the comedy of the show.
The production leaves the audience with a friendly reminder that we must always be aware of the consequences of our actions. The adventure emphasizes it's within our power to make changes for the better. This is a message that kids and adults can both appreciate.
Also read: Monkey see, David Butler do
Courtesy of Chad Shelton