SDSU's Zahn Center brings ideas to life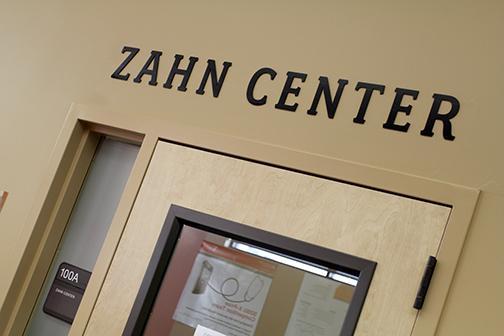 Tucked away in the Industrial Technology building on San Diego State's campus is an office that is helping bring ideas to life for the students, faculty and staff of SDSU.
The Zahn Innovation Center was started almost two and a half years ago after a donation from Irwin Zahn, a San Diego based entrepreneur, who also founded The Moxie Foundation.  The Moxie Foundation's website explains its mission as being "…dedicated to enriching and empowering individuals and communities by advancing educational achievement and entrepreneurial success, personal health, and the environment."
"We work with all the colleges at SDSU," Zahn Center Executive Director Cathy Pucher said.  "We take an early stage idea and help them get started."
In order to get a project sponsored by the center, aspiring entrepreneurs fill out a simple application and meet with a staff member of the center.
"We ask what the problem is and what the solution would be; who would be the customer; what is the competitive landscape, is anyone else making this and why are you different?" Pucher said. 
Currently the center has 38 teams working on projects ranging from a quality-control reusable wine stopper to a better and more reliable 3D printer.
There are several resources available once a team is brought into the center.
"All the services are free and we help to find a mentor for them," Pucher said. "We connect them with different levels of expertise."
In addition to mentors, Pucher said topic experts are assigned to the teams and help them at very specific points.  The mentors and topic experts are often SDSU alumni.
Teams are also given access to the IdeaLab at the center. In the IdeaLab, prototypes of products can be fabricated with 3D printers and other machines. The Zahn Center is open 24/7 for those with projects there.
The Wine Reader team is made up of Matthew Redlinger, Liz Cunningham and Stacey Nease.  Redlinger and Cunningham are current MBA students at SDSU and Nease has already graduated.  
"As a team, we are developing a reusable wine stopper that measures the overall quality of an opened bottle of wine," Redlinger said.
Redlinger said Cunningham, who is the team's CEO, was tired of throwing out bottles of opened wine because she wasn't sure if they were still good.
"The Zahn Center has been great," Redlinger said.  "Cathy Putcher and her team have given us guidance and connected us with industry professionals.  Cathy encourages us to be forward-looking."
The Zahn Center has helped the Wine Reader by connecting them with engineering professionals who build their prototypes for free and pro-bono lawyers who help file patents and trademarks.
Aerospace engineering senior Jennifer Wood is another SDSU student that the Zahn Center is helping. Wood and her team A3D Labs saw a need for a better 3D printer and set out to make that happen.
"3D printers are very difficult to use as they are currently very unreliable," Wood said.  "A lot of times they will get partway through printing and then experience a failure. We learned that this is a very typical problem with 3D printers that affected not only us, but a lot of the people using 3D printers." 
Wood also cited the free legal help as being very helpful to her team.
Pucher encouraged anyone with an idea to come to the Zahn Center and apply.
Photo by Monica Linzmeier, Photo Editor