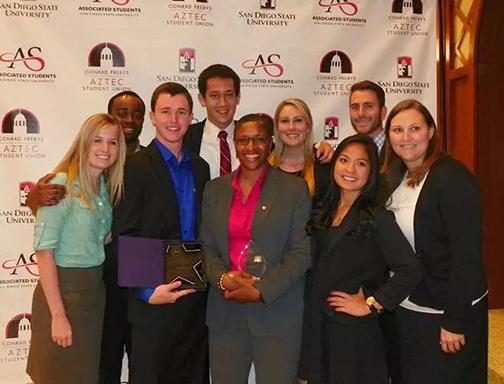 San Diego State's Associated Business Student Council held it's Annual Business Achievement Awards Tuesday, April 29 in Montezuma Hall to recognize student success, organizations and influential faculty and staff members.
Emceed by the College of Business Administration Assistant Dean Christine Probett and last year's homecoming king and award recipient Jordan Harrison, the ceremony was filled with laughter, recognition and honor.
"Our students are doing so many amazing things and we just want to make sure that we are recognizing as many as possible," Probett said.
Individual recipients of the ABSC Business Achievement Awards were evaluated in academic excellence, internship experience, study-abroad experience, leadership development, community service outside of SDSU, and student involvement with SDSU and the College of Business Administration.
Out of the 15 individual finalists, 10 were chosen for individual Business Achievement Awards, where each recipient was presented $250 in scholarship funds.
The ABSC also made an effort to show its affiliation with the Associated Students Aztec Achievement Awards. Once called the "Future Rising Business Leaders Awards," the Business Achievement Awards seeks to acknowledge what students have already accomplished, Probett said.
Since last year, the ABSC award ceremony has doubled the amount of awards given to individual recipients. The organization also recognized graduate students, awarded scholarships and adjusted their selection criteria to align with SDSU's strategic plan and academic excellence, peer coordinator and academic mentor of the CBA Jessica Savalla said.
Students were also given the opportunity to honor a faculty or staff member of their choice for inspiration, teaching abilities and mentorship.
"As a faculty member myself, you don't know what students think about you," Probett said. "So its nice to know when you have made an impact on them."
Individual winners and faculty/staff members:
Management senior Casie Martinez: Michelle Dean, Ph. D.
Entrepreneurship graduate student David Duwe: Jaemin Kim, Ph. D.
Finance sophomore Scott Callens: Jessica Savalla
Finance senior and A.S. President Joshua Morse: Frank Ryan
Supply chain management graduate student Gaurav Parbat: Helio Yang, Ph. D.
Finance senior Brian Kidwell: Bernhard Schroeder
Marketing junior Daniel Merrick: Christine Probett
Management sophomore Gabrielle Gray: Tita Gray
Supply chain management graduate student Kelly Lindley: Christine Probett
Finance and economics senior Karl Maes: Swaminathan Badrinath
"The faculty and the students that are also leaders make you want do more," award recipient Daniel Merrick said.
Awards were also given to organizations that have shown exceptional ability and success in particular areas. These areas include marketing, charity, environment and sustainability, diversity, outstanding speaker and outstanding student organization.
Organization Winners:
The American Marketing Association's Marketing Award: Hispanic Business Student Association
Student Accounting Society's Charity Award: The Real Estate Society
ABSC's Green Award: The Real Estate Society
ABSC's Diversity Award: Black Business Society
ABSC's Outstanding Speaker Award: Delta Sigma Pi
ABSC's Outstanding Student Organization Award: Student Accounting Society
"I'm proud of the team I have, I am proud of the board and I am also proud of the support we have in the community from the professionals," Real Estate Society President Bharat Madan said.
 Photo courtesy of Suzanne Finch