Editors say farewell: Leonardo Castaneda, editor in chief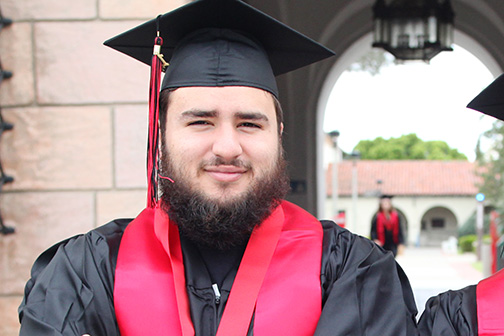 When I started writing for The Daily Aztec's opinion section in Fall 2010, I thought I was an incredible writer, a freshman who was going to take the newspaper readers of San Diego State by storm.
I was wrong. So very, very wrong.
My writing was terrible. I'd rather take Comm 103 every day for the rest of my life than have to reread those awkward, bumbling first articles again. For reasons I cannot fathom, my editor at the time, Tom Hammel, decided to take a chance on me. He spent countless hours helping me rewrite awful columns again and again. Slowly, my writing improved and by my sophomore year I was named senior staff columnist.
Once again my editor, this time Chris Pocock, took a chance on me, letting me experiment with style and topics I wouldn't have been able to take on in any other college newspaper opinion section. Somehow, I was hired as opinion editor and I got to work with some of the most talented writers I've ever met. I learned more about writing while editing Madison Hopkins, Kenneth Leonard, Caitlin Johnson and Mike Heral than I ever could have just writing, and I hoped I was able to pass on some of the learning I had picked up from the editors who came before me.
Looking back on my four years, I can proudly say that The Daily Aztec accomplished much while I had the honor of working as editor in chief. For that I'm grateful to the advertising executives, editors, designers and managers that have become life-long friends.
With Ana Ceballos we refocused the editorial content of the newspaper while adapting to a twice-weekly, digital-first model. With Jesse Castaneda we put the newspaper well on its path to financial stability and sustainability it hadn't seen in years. With Victor Escoto we engaged the campus community online and in social media in an unprecedented way. And with Kelly Hillock and Christina Koral we put together a year of centennial celebrations worthy of the newspaper's incredible history.
Most of all, however, I am grateful for the friends I made along the way, and those who took the time and energy to teach me so much about being a journalist. I hope I have added to and passed on that knowledge to the writers and editors that came after me. I can't wait to see what Monica Linzmeier accomplishes as the new editor in chief.
For my part, I only have one thing left to say. To the people that came before me, that gave me the opportunity to find a campus family at The Daily Aztec and to grow as a person, as a student and as a journalist: thank you.

Photo by Monica Linzmeier, photo editor