Cederoth, Allen headline Aztec baseball draft picks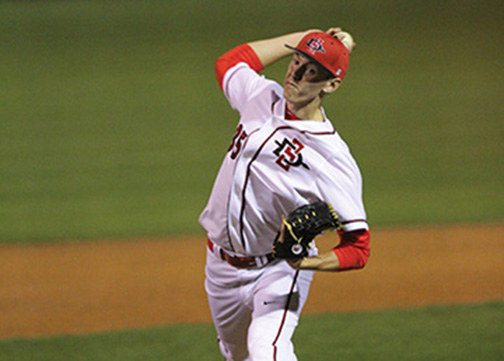 In the 2014 Major League Baseball First-Year Player Draft, the Minnesota Twins sought after a pitcher who could throw downhill with high velocity. They got just that when they used a third-round draft pick on San Diego State University's junior pitcher Michael Cederoth.
Cederoth and five other SDSU players, including Greg Allen and Tim Zier, were drafted by major league teams in this year's draft. Allen went to the Cleveland Indians in the sixth round, while Zier was drafted by the Philadelphia Phillies in the 21st round.
Junior catcher Brad Haynal and senior relief pitcher Justin Hepner were taken by the Miami Marlins in the 18th and 36th rounds respectively, while junior pitcher Brandon Thomas was taken in the 24th round by the Kansas City Royals.
The 6-foot-6-inch Cederoth impressed scouts and opposing hitters this year with his bread-and-butter fastball that topped out at 100mph. He led the Mountain West Conference with 20 saves as the Aztecs' closer this season and posted a 6-2 record in 32 appearances.
The Twins' Vice President of Player Personnel Mike Radcliff said in a phone interview that Cederoth has a lot of potential and that Minnesota has high hopes for the flame-throwing San Diego native. Cederoth should also expect to pitch some innings for the Twins within the coming weeks, he said.
The Twins get a pitcher who struggled at times with control, but Radcliffe said many pitchers struggle with control issues as rookies.
Cederoth was picked after being named first-team Louisville Slugger All-American honoree and a two-time Mountain West Pitcher of the Week among other awards.
Allen goes to the Cleveland Indians with accolades as well. He was SDSU's 2013-14 Male Student-Athlete of the Year and was also a two-time recipient of the Arthur Ashe Jr. Sports Scholar award.
Cleveland gets a consistent player who batted .302 with 26 RBIs and six triples this season, but the Aztecs' leadoff man's biggest strength is speed.
Allen led SDSU with 25 stolen bags and showed similar speed in the outfield where he made many diving catches.
Cederoth and Allen are set up for success, but what about Zier, Haynal, Thomas and Hepner who were all drafted after the 17th round?
Consider Mike Piazza, one of the best catchers in MLB history. He was drafted in the 62nd round in 1988. His accomplishments? He had 12 trips to the All-Star Game, 427 career home runs and a .308 career batting average.
Haynal led the team with 12 homers this season while playing more than half of his games in the pitcher-friendly Tony Gwynn Stadium.
Zier is going to the Phillies, who are managed by Ryne Sandberg, a former 20th-round draft pick as a second baseman. Sandberg had the best fielding percentage of any major league second baseman in history at .989 and also recorded 2,386 hits.
Zier also played second base and is the all-time hits leader at SDSU and turned 37 double plays this season.
If the future looks bleak for Hepner and Thomas, two guys who weren't attracting much attention, they can look at Toronto pitcher Mark Buehrle, a former 38th-round pick by the Chicago White Sox in 1998.
Buehrle has recorded 10 or more wins in 14 of his 15 seasons with a grand total of 196.
Sure, the odds may be heavily against Haynal, Zier, Thomas and Hepner, but the odds were also unfavorable forr Piazza, Sandberg and Buehrle, and they turned out just fine.