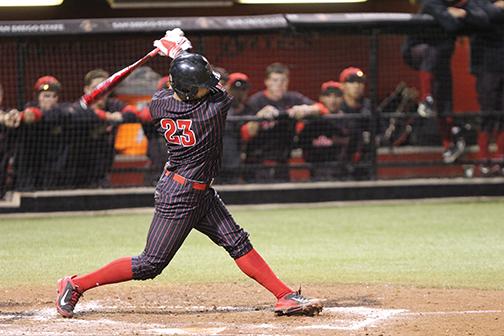 Kevin Serrano, staff photographer
I have this dream. Sometime before I die or graduate—whichever comes first—I want to buy either a San Diego State baseball or softball jersey from the SDSU Bookstore. I can find football and basketball apparel as easily as "The Show" finds an opponent to heckle, but even though softball has won three consecutive Mountain West Championships and baseball has gone back-to-back, its jerseys are found on players only.
You know what else you can find in SDSU football and basketball but not baseball and softball? A conference game broadcast on television.
That isn't because SDSU baseball and softball are as unwanted as a science teacher who doesn't grade on a curve. Fox Sports San Diego Senior Vice President and General Manager Henry Ford said his station is willing to partner with SDSU for more than just the occasional football and men's basketball game.
"We have produced men's baseball games (in the past) and desire to continue to grow the relationship and evolve the selections as appropriate," Ford said.
One obstacle to broadcasting more SDSU's sports is the Mountain West itself. Some may remember that the Mountain West created its own cable TV channel. It lasted a little bit longer than my relationships before conference defections contributed to its demise.
In that channel's wake, the Mountain West sought a three-tiered approach, said Jovan Hedlund, the Mountain West's associate commissioner of communications.
"CBS Sports Network is the primary national rights holder of the Mountain West," Hedlund said. "ESPN is the secondary rights holder for the Mountain West.  After those two entities select games … ROOT Sports begins its selections as the league's regional partner."
Oh yeah, ROOT Sports. If you've never heard of them, you aren't alone. The hyper-regional network reaches only 8.7 million viewers.
When ESPN signed football and basketball deals with the ACC, SEC and Big 12, those conferences had the clout to make ESPN carry its baseball and softball games. The Mountain West didn't. Its contract includes football and men's basketball only.
Here's why that's important: This year, Vanderbilt beat Virginia in the baseball championship and Florida rolled Alabama for the softball championship. All four play in conferences tied to ESPN.
SDSU Softball Head Coach Van Wyk doesn't find that coincidental. Television exposure is a great recruiting tool, she said.
"It's a huge disadvantage when the PAC-12, Big Ten and SEC have their games on TV," Van Wyk said. "Look who plays in the College World Series—it's not coincidental."
Still, the SDSU athletic department is pleased that football and men's basketball games are televised even if baseball and softball—and women's basketball, let's not forget them—are not.
"We are tremendously excited about the growth of our national package," said Mike May, the SDSU associate athletic director for media relations.
That excitement stems from all but two games airing nationally for the upcoming football season, and from most men's basketball games airing nationally last season. Clearly, those sports are well-fed.
Listen to a local radio sports talk show for any length of time and a host will declare how fortunate it is that SDSU now fields winning teams. KLSD-AM, better known as XTRA Sports 1360, plays a segment proclaiming that SDSU's men's basketball's success fills the sports void left between the early winter San Diego Chargers exit and the San Diego Padres April entrance.
While true, interest in the Padres dies as quickly as a baseball hit into the heavy Petco Park and, the boys of midnight blue and sand blunder into baseball irrelevance before April sun turns into May gray.
Imagine if SDSU baseball and softball filled the sports hole men's basketball leaves in mid-to-late-March. Cut the internet cord streaming SDSU baseball and softball, and send the sports to television. Allow San Diego's sports fans and talk show hosts to discover that SDSU's winning tradition extends beyond four consecutive bowl games and March Madness.
Who knows, with newly found interest I can realize my dream and sport a baseball or softball jersey around campus. It's either that or I'm wearing a Speedo from the swimming team.