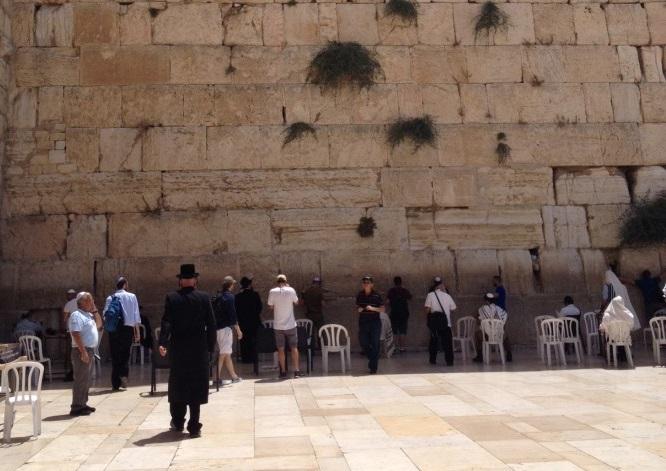 David Dixon, staff writer
Editor's Note: Entertainment writer David Dixon shares his first-person account on his recent trip to Israel. 
For months I was looking forward to a summer trip sponsored by Taglit-Birthright Israel. This is a ten-day program that allows young Jewish men and women from 18-26 to enjoy a free, educational and cultural trip to the Holy Land. My happy-go-lucky mood changed on July 1, the night before leaving, when I found out that tensions between Israel and the Palestinian movement, Hamas, were rising.
Instead of cancelling my plans to visit the Middle East, I decided to continue on with Birthright. The organization had a great reputation for keeping groups safe, so I did not anticipate any major harm in going. I am relieved to say that except for a couple of bug bites, I came back to San Diego unscathed. That does not necessarily mean that the overall journey was a relaxing one. As a matter of fact, Operation Protective Edge was declared by Israel on July 8, a few days into our journey.
The members of my group, which included several San Diego State students, were on an international excursion that felt timely. This started to become apparent shortly after we left Tel Aviv, which is considered to be the Manhattan of Israel.
We heard on the news that Hamas launched a missile intended to kill civilians, but it was destroyed thanks to Israel's Iron Dome missile defense system. I could not help but be disturbed knowing that such a grim incident occurred in an urban environment that typically does not see much fighting.
There were other events afterward that were just as unsettling. During an evening spent in a Bedouin Tent, planes flew overhead to take part in battles in the Gaza Strip. Only a day later, our original tour guide had to leave, because he was called back into military service. We were all in a funk, out of concern for his safety and because he was such a friendly, knowledgeable and informative person.
While there were a lot of memorable moments early on, nothing came close to our experiences in Jerusalem. During the first day in the city, the group members got to explore Ben Yehuda Street, which is home to many shops, restaurants and bars. Our new tour guide gave us instructions as to what to do if we heard an air raid siren. It is a good thing he did, because chaos occurred only a couple of hours later.
When walking in Ben Yehuda Street, three friends and I heard a loud siren giving shoppers 60 seconds to find shelter. After the four of us went quickly into the back of a store, we could hear the Iron Dome destroying the missile. During the aftermath, shoppers seemed calm and collected, in spite of the current situation.
Two days later at the Jerusalem Gold Hotel, my roommate and I were watching the news when we heard a faint sound in the distance. Upon hearing people run in the hallway, we realized that this was another siren signaling a missile attack. Immediately, we went downstairs into a bomb shelter, and the Iron Dome once again successfully destroyed the deadly missile.
While I was terrified with the first missile, the second attack made me simultaneously angry and grateful. It's so hard to comprehend that innocent people are being randomly killed on both sides of the Gaza Strip. Also, I realized just how fortunate we are to live in a country where ongoing systematic violence against people of a different religions and cultures is not the norm.
There were plenty of fun and inspiring activities to go along with the freakier moments of Israel. We saw the Sea of Galilee, rode camels, climbed Mount Masada and explored the different parts of Jerusalem, including the Western Wall.
Overall, I personally will never forget my stay in Israel. Not only did I learn more about other cultures, but getting to see the country during such a relevant time made this part of my summer all the more noteworthy.
Of course I realize there are parallels between the conflict that I witnessed, and the conflict that exists on campus. As a person who believes in war only as a last resort, I wish that there was a diplomatic way to solve the tensions in the Middle East, as well as at SDSU, so that we can all thrive, flourish and respect and appreciate our differences.
Being an eternal optimist, I would like to quote the words of Abraham Lincoln, "With malice toward none, with charity for all… to do all which may achieve and cherish a just and lasting peace among ourselves and with all nations."